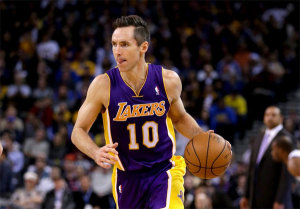 After 19 NBA season's Steve Nash has finally decided to call it quits. Plagued with injuries the past few seasons, the 2-time MVP's career didn't end the way anyone wanted, but in his prime, he was the catalyst of the most efficient offenses in recent memory.
He'll be a Hall of Famer some day, and he broke the news himself on The Players' Tribune. Here's some of what he wrote, but check out his full letter at The Players' Tribune:
I'm retiring.

I heard someone once say there comes a day when they tell us all that we can't play anymore. We're not good enough. Surplus to requirements. Too slow, maybe. When you're a teenager with outsized dreams and a growing obsession, and someone tells you this ain't gonna last forever, it's scary. I never forgot it.