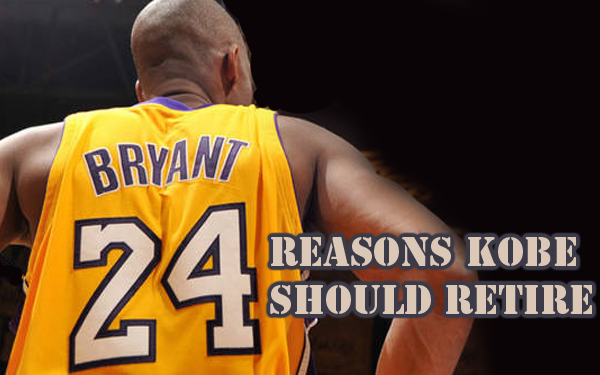 This week Los Angles Times' Jim Peltz relayed Los Angeles Lakers superstar Kobe Bryant's message that "There was never a question for me whether or not I was going to play next year." Here are 24 reasons he might want to think twice.
24 was how old Kobe Bryant was when he played a career-high 41.5 minutes and scored 30.0 ppg. In 35 games this season, he played 34.5 minutes per game at 36 years of age, tallying 22.3 ppg.
23, how many 20+ scoring games Kobe had this season, compared to 63 (in 43 more games) Kobe had in 2012-2013, his last (almost) full season.
22.3 was Bryant's points per game this season, which isn't bad unless your name is Kobe Bryant, but it's his worst since last season (13.8 ppg).
21.09, Kobe's ppg the last two (partial) seasons.
20.4 FGA Kobe took this season, tying his 8th highest output, but his shooting plummeted to a career-low 37.3%.
19 seasons Bryant has played in the NBA. Next season will make it 20. Who else has played that long? It's a short list: Robert Parish (21), Kevin Willis (21), and Kareem Abdul-Jabbar (20). If Kevin Garnett plays another season, it will make 20. His former teammate Ray Allen would have to play two more to reach 20. Just saying, it's a long time to play pro basketball.
18.8, or Kobe's three-point percentage last season, his career-low. This season it was up to 29.3, still not respectable, and over the last 3 seasons, Bryant is shooting only 31.1% from beyond the arc.
17.7 was Bryant's efficiency rating this season, his lowest since his rookie season (14.4), if you take out the 6 games he played in 2013-2014 (technically his lowest PER at 10.7). Kobe's career PER average is 23.2; Michael Jordan's was 27.9. Speaking of MJ, Kobe's efficiency ratings are worse than Jordan's ratings when he played for the Wizards.
16.4% is what Kobe shot from 0-3 feet from the basket last season. This season that number was down to 13.6%. From 3-10 feet, Bryant shot around 12%, which is all bad news because 74.2% of his field goals were from 2-point range.
15.8% FG was Bryant shooting percentage on January 13, 2015 in a three-point loss to the Miami Heat, Bryant's second lowest shooting output of the season (lowest: 7.1% v Spurs).
14.0 was Kobe Bryant's points per game in the month of January.
2013 was the last time Kobe had a good shooting percentage (46.3%). Since then, he shot 42.5% in 2014, his lowest since before Phil came on board the first time. Bryant was also a -13.9 in +/- when the Lakers lost this season.
12.8% of the time Kobe shot the ball with 18-22 seconds left on the shot clock, early enough in the shot clock for him to be effective and shoot 48.4%. Too bad it's not like that all the time. Once it was late in the shot clock this season, Bryant shot in the mid-30s.
11.07 is Kobe's career turnover percentage. This season it was 13.5. In 2013-2014, Kobe's turnover percentage was 29.2, his worst numbers in this area in about a decade.
10 games out of 35 this season, Bryant did not have a negative (-) +/-.
-9.1 was Bryant's +/- in December.
8 of the last 18 NBA players who have suffered a ruptured Achilles tendon played two or more seasons afterwards, since 1999. If Kobe returns, he will be 1 of 5 players since 1999 to play 3 or more seasons, after a serious Achilles injury (others: Elton Brand, Gerald Wilkins, Christian Laettner, Maurice Taylor, and Laphonso Ellis)
7.6 FGM this season, other than last season (5.2), it was Bryant's least shots made per game, since he had to share the spotlight with Gary Payton, Karl Malone, and Shaquille O'Neal in 2004. And, whom did Kobe play with this season? The picked over bones of Steve Nash and Carlos Boozer? Not a good sign. Even with minimal help, Bryant simply
6 times Bryant was able to score 30 points or more this season, his lowest since the 1998-1999 season. For some perspective, Kobe had 36 such scoring games in the 2012-2013 season.
5.9 apg over Bryant's last 119 games (704 assists), a career-high over a three-season span and not a good sign for a guy known as a lights-out shooter.
4 is the amount of games this season Kobe Bryant failed to score 10 or more points, counting the pre-season, out of 41 games. So, nearly 10% of the time, he finished games with point totals like 9 or 4.
0.3, or 6-14 is Bryant's head-to-head record against the NBA's premier player today, LeBron James. Three is also an important number because that's how many years it's been since the Lakers bested James' team in a head-to-head.
0.2 were Kobe's win shares this season, the second lowest of his career (lowest 2013-2014: -0.4).
1 game this season, Kobe scored 40 points or more, and, if rumors are true, the Lakers may try to rebuild around Bryant again, so there we are, a purple and gold glimmer of hope for the eternal optimists.
With all the respect to a man who has cemented his place in NBA lore, one of the greatest players in NBA history, Mr. 81, Mr. Bryant, your game is godly, but everyone's time comes. I keep thinking about Laker-great Elgin Baylor, who scored 11.8 ppg and grabbed 6.3 rpg in the 1971-1972 season, but because he was injured (knee) and he was not playing up to his own standards (27.4 ppg), Baylor walked away from the game, even though his Lakers would go to set the record for consecutive wins and win the NBA title that same season. Baylor walked away from a team with Jerry West and Wilt Chamberlain out of self-respect.