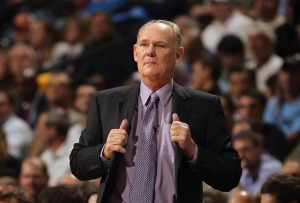 What we all speculated is now official, George Karl will be the next head coach of the Sacramento Kings after agreeing to a four-year, $14.5 million contract, according to league sources.
The Kings (18-34) have been struggling under the helm of interim head coach Tyrone Corbin, which somewhat proved to be an obvious indication that a replacement was expected to come sooner rather than later. Karl definitely has a lot of work to do in turning this team around.
From Adrian Wojnarowski of Yahoo! Sports:
Yahoo Source: Sacramento Kings, George Karl reach agreement on four-year, $14.5M contract. http://t.co/nifKZyz0zK

— Adrian Wojnarowski (@WojYahooNBA) February 12, 2015
The 63-year-old head coaching veteran has a total of 1,131 regular-season victories throughout his career and has gone through stints with the Cavs, Warriors, Sonics, Bucks and most recently the Nuggets.
Having only won two of their last sixteen games since Malone's exit—Karl will need to find a way to develop a relationship early with his leaders in DeMarcus Cousins and Rudy Gay. Karl is known as a 'player's coach' and shouldn't take long to earn the respect of the locker room and develop some chemistry among the team.
Benjamin Felix Santos is currently a senior college student from Manila, PH. An aspiring NBA writer, who bleeds the purple and gold. His love and passion for the game will never die.
Follow @biefsantos