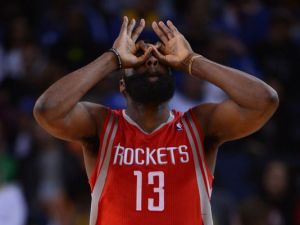 Is it just me or is this year's three point contest the event to watch at this year's all-star weekend in New York. As a shooting guard I've always personally loved that event as much as the dunk contest, but with the decline in popularity of the dunk contest, rookie game, and even the all-star game as the NBA annually tinkers with the format for all three, the only tried and true entertainment of skill at ASW is the 3-Point Shootout.
But what is really making this years 3-Point contest exciting is the players field. It could very well be the most talented shooting field we have ever seen. You know it's a sharpshooting bunch when one of the leagues top perimeter scorers is added to the list, and no one even blinks. In fact most would say Harden doesn't even stand a chance. The chronicle had this today…
Harden said recently that he would like to participate in the event Feb. 14 in Barclays Center, but added, "I have to start shooting better." Harden, the Western Conference Player of the Month for December and January, has done that, making 47 percent of his 3s in his past 10 games.

Harden is fifth in the NBA in 3-pointers made per game, making 38.7 percent of his 3-pointers this season. Harden averages 27 points per game to lead the league in scoring.(via Houston Chronicle)
The field currently stands at: Portland's Wesley Matthews, Golden State's Stephen Curry and Klay Thompson, Atlanta's Kyle Korver, San Antonio's Marco Belinelli, Cleveland's Kyrie Irving and the Los Angeles Clippers' J.J. Redick, and now Harden.
Seriously? Curry, Thompson, Korver, Redick and Irving? That is just ridiculous.
My money is on Curry. It doesn't hurt that he's on fire entering All-Star Weekend. How about his 51 point barrage last night against the Mavs?