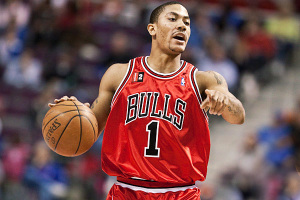 Just when we all thought that former league MVP—Derrick Rose—was on his way to returning back to his old dominant self—but unfortunately the injury gods seem to have a liking for him.
According to league sources, Rose was reportedly going to undergo right knee surgery to repair a torn meniscus—which is the same knee he had a meniscus tear last season.
BREAKING: Derrick Rose will undergo surgery for meniscus tear in right knee. pic.twitter.com/NDmjfn8rqN

— SportsCenter (@SportsCenter) February 25, 2015
MORE: Derrick Rose reported Tues. w/ right knee pain, MRI confirmed meniscus tear. Timeline for his return will be determined after surgery.

— SportsCenter (@SportsCenter) February 25, 2015
And as expected, numerous players around the league began expressing their support (via twitter) for Rose…
Man feel bad for D.Rose! Keep your head up homie and stay strong G!

— LeBron James (@KingJames) February 25, 2015
Prayers up for the homie Drose…Wish u a speedy recover

— John Wall (@JohnWall) February 25, 2015
Damn man, I hate that…get healthy D! Praying for you.

— DeAndre Jordan (@deandrejordan6) February 25, 2015
Whether you're a Bulls fan or not—any fan will certainly feel bad for these kinds of injuries to players in the league. Injuries are inevitable but it is just so unfortunate for Rose to go through this for consecutive seasons following a most valuable player of the league award that recognized his dominance and future.
Now, the Bulls (again) will have to move forward through the season without their star point guard—and surely, it won't be an easy task as Rose's been playing a significant part in leading the team to a 36-21 win-loss record and are currently in the third spot in the eastern conference standings.
Rose averaged 18.4 points, 3.1 rebounds, and 5.0 assists in a total of 46 games played this season.
The thought of Rose returning to the Bulls in time for the post-season after this injury may be out of reach. But the team has not officially announced his recovery timetable, however, one can assume that the gravity of a torn meniscus can never be taken lightly and hence, the Bulls shouldn't be expecting anything from Rose except a good lengthy recovery.
It is sad to have to say it, but many analysts will start to ponder whether or not this could be the end of his career, or at least the type of player Rose once was?
Benjamin Felix Santos is currently a senior college student from Manila, PH. An aspiring NBA writer, who bleeds the purpleand gold. His love and passion for the game will never die.
Follow @biefsantos