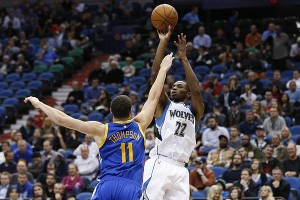 Andrew Wiggins is going to be a superstar.
No, he's probably not the second coming of LeBron James, as he was made out to be just before playing his college ball at Kansas.
Then again, that same notion seems a lot less ridiculous now than it did leading into the NBA draft. Or just a few months ago.
Or just a few weeks ago.
The Minnesota Timberwolves' dynamo has been on a tear of late. Since January 1, he's averaging 19.4 points, 4.7 rebounds, 2.5 assists and 1.4 steals per game on 46.3 percent shooting. And though his three-point success rate is down during that time (34 percent), it's higher than anyone thought it would be when he was drafted—both now and overall (36.7 percent).
Playing for the Timberwolves has certainly helped. He's getting more burn, more responsibility than he ever would have with the Cleveland Cavaliers. Hell, his usage rate—which measures the percentage of plays an individual takes up when he's on the floor–is 22.2 percent. That's a lot. That's a truckload. That's incredible.
That, my friends, when combined with some efficiency numbers, is historically significant.
Ahem:
Rookies who put up Wiggins' efficiency/usage #'s at age 18/19: Carmelo Cliff Robinson Marbury Durant Kobe Per http://t.co/mNSVRTm0J7

— Couper Moorhead (@CoupNBA) February 5, 2015
Here's a screenshot of the sorting, just for good measure:

Joining the company of a young Kobe Bryant, Kevin Durant and Carmelo Anthony is never a bad thing. Even Stephon Marbury's inclusion is a plus. All five of those other guys turned out just fine. Three of them are future Hall of Famers. Wiggins' career is off to a good start.
Not that he's going to be the next KD or Melo or Kobe. No, no, no. Wiggins is registering the lowest PER and TS% of that bunch, so he has some work to do.
Still, this is beyond encouraging. Wiggins looks more aggressive in recent weeks, and while the Timberwolves are pretty awful, he's proving to be a foundation worth building upon.
And who knows, maybe one day, years from now, we'll be talking about Wiggins like we do Kobe or KD, referring to him not as only a star or superstar or mega superstar, but as an all-time great.