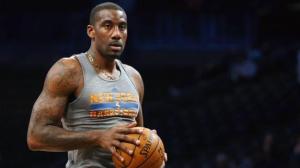 After being officially waived by the New York Knicks –Amare Stoudemire's services are now up for grabs and numerous teams are reportedly interested in acquiring the former All-Star center, who can still prove to be a reliable big man for many contending teams.
Despite the interest he is currently receiving, reports indicate the Dallas Mavericks are the likely destination for the former Knicks center, according to Ian Begley of ESPN New York:
Ex-#Knicks forward Amar'e Stoudemire is leaning toward signing with the Dallas Mavericks at this point, per sources.

— Ian Begley (@IanBegley) February 16, 2015
The Mavericks are in desperate need of front court depth that can carry the load in the paint with the second unit, as a backup to their starting center Tyson Chandler. Stoudemire also gives front court flexibility to teams' rotation as he is naturally as good at the 4 spot as he is the 5.
The Western Conference continues to get tougher and tougher each day, and if Dallas does end up acquiring Stoudemire you can guarantee their expectations will be high that Stoudemire is the missing piece to help them break through the clutter as a legitimate challenger to the Warriors and defending champion Spurs, come playoff time.
Benjamin Felix Santos is currently a senior college student from Manila, PH. An aspiring NBA writer, who bleeds the purple and gold. His love and passion for the game will never die.
Follow @biefsantos