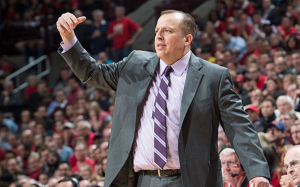 Although he's been in Chicago a for little while now, Tom Thibodeau hasn't had the pleasure of having a full, healthy roster in the playoffs for quite some time. Because of this, it's almost as if he gets a pass whenever the Bulls don't achieve what people believe they should have. Regardless of that fact, there are bigger issues in Chicago according to the Chicago Tribune.
Apparently, Thibodeau's relationship with Bulls management is not healthy and there isn't much optimism of him remaining as head coach for much longer. Time will tell.
several league sources believe Thibodeau's relationship with management is beyond repair.

And while there are no plans to replace Thibodeau during the season, a mutual parting of the ways after this season wouldn't surprise many league personnel familiar with the deteriorating dynamic.