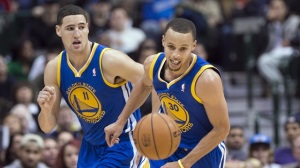 They're called the Splash Brothers for a reason. When it's all done, if they stay together, Steph Curry and Klay Thompson will probably go down as the best shooting backcourt in NBA history. So, it's only natural that they both compete in the 3-point contest at all-star weekend. It's not everyday you see to high profile shooters who are teammates compete in this. Should be fun.
The Golden State Warriors' backcourt of Stephen Curry and Klay Thompson plan to participate in the NBA's three-point shooting contest during All-Star Weekend in New York, league sources told Yahoo Sports.

Atlanta's Kyle Korver, Portland's Wesley Matthews, and the Los Angeles Clippers'J.J. Redick are among the six players set for the contest on Feb. 14 at the Barclays Center, league sources told Yahoo Sports.
H/T: Yahoo