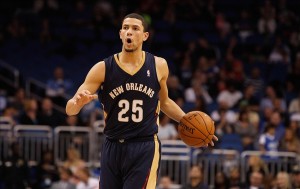 Los Angeles Clippers Coach and President of Basketball Operations Doc Rivers said all the right things when he pulled the trigger on a 3-team trade that sent his son Austin Rivers home to the Clippers, Reggie Bullock to the Phoenix Suns, Chris Douglas-Roberts and a 2017 pick to the Boston Celtics. But, does the Clippers acquiring Austin Rivers make any sense or is it favoritism?
6'4, 200 lbs. Austin Rivers, out of Duke University, was the 10th pick in 2012. What a draft that was. Anthony Davis went 1st, and Damian Lillard went 6th. Rivers was drafted ahead of John Henson, Tony Wroten, and Draymond Green. His father Doc Rivers was a leader in Atlanta by his second season, posting 14.1 ppg, 5.9 apg, and 2.4 spg. So far, Austin Rivers has career averages of 6.9 ppg, 2.3 apg, and 38.8% FG.
Austin Rivers Highlights:
Please enable Javascript to watch this video
According to many sources, include True Hoop, the Clippers biggest weaknesses this season have been "defense and crunch-time offense." Everybody knew the Clippers needed to do something to change it up and get back in contention for a championship, but was this the right move?
Doc and Austin Rivers now make up the first father-son combo on the same team in NBA history.
Doc says their was no favoritism involved. Frankly, if Rivers can play at the NBA level, I don't care if there is favoritism or not. I care if he can help the team. Just be honest, Doc. If you wanted to help your son's career, just say so because it's hard to defend this as a basketball move.
Austin Rivers says Doc isn't, "doing any favors for me," but moving Austin Rivers from a 9th place, 19-20 New Orleans Pelicans team where he playing about 20 minutes a game to a 6th place, 27-14 Clippers team. Not only is Rivers on a better team, a team with championship aspirations, but he'll be schooled by veteran NBA shooting guards like Jamal Crawford and J.J. Redick.
To acquire Rivers, the Clippers traded away Reggie Bullock and Chris Douglas-Roberts, and on the cusp of cutting Jordan Farmar. Although Bullock and CDR haven't fully developed, Farmar is an NBA champion with Kobe Bryant and the Lakers, a career 7.7 ppg, 2.9 apg, and 37.4% 3PT shooter. Farmar hasn't had a season scoring under 9.6 ppg since those runs to the Finals with the Lakers in 2009 and 2010.
Austin Rivers is, at best, an under-achieving, unproven shooting guard, so for Doc and some L.A. reporters to defend this as a basketball move is just nonsense.
But, only time will tell if Austin Rivers was just what the Doctor ordered, or if this was the work of a great spin doctor.