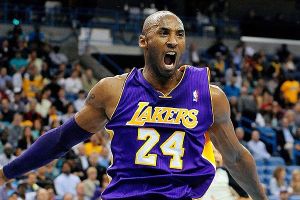 Reminders that Kobe Bryant is old, and getting even older still, have been out in full force this season.
Here's another one.
Speaking with the Los Angeles Times' Bill Plaschke, the 36-year-old admitted that walking away from the NBA and Los Angeles Lakers after this season has been something he's thought about:
"I'd be lying if I said that it hasn't crossed my mind," he tells The Times. "Right now I doubt it … but anything's possible."

He emphasizes the right now (because, right now, the reality is so muddled and difficult that even the Black Mamba is having trouble wrapping his mind around it.

"My body is hurting like crazy, around the clock, and if I don't want to do this anymore, I won't do it," he says.
Uh oh.
Midway through the first season of his two-year extension is an odd time to be talking about retirement. Some have entertained the possibility that he could play beyond his current deal. At the very least, he's been expected to finish it out. No way he retires after this season, right?
Lakers coach Byron Scott agrees.
From ESPN Los Angeles' Baxter Holmes:
"I'm sure it's probably crossed his mind more than once, but we haven't talked about that one bit," Scott said after the Lakers' practice at their facility here Sunday.

"It's just game by game — that's how we're going to approach it and then go from there. I think he'll probably tackle that issue once this season is all said and done."
It's no surprise that Kobe hasn't been talking about this with the Lakers…because it's not going to happen.
There's no way Kobe walks away from his $25 million salary next season. He'll have made more than $300 million for his career following 2014-15—more than three times as much as Michael Jordan—but that's not a figure you walk away from willingly.
Maybe if he ended this campaign with a sixth title and wanted to walk away on top it's a legitimate possibility. But there will be no sixth ring this season. There will only be more losing. And though next year could promise much of the same, there's a chance the Lakers are better following a free-agency coup and, if they're lucky, the selection of a top-five draft prospect.
This feels like Kobe still coming to terms with his own mortality and limits more than anything. His evolution from tireless and reckless workhorse to calculated and methodical veteran has been a long one, and it remains ongoing. This season has seen him try to carry a Lakers team that cannot be carried, not even by a 26-year-old Kobe, let alone 36-year-old Kobe.
Talk of shutting him down has since taken over. He's already on a maintenance program, and there's no sense risking further injury for a team going nowhere if he's planning to play beyond this season. And while actually shutting him down would be foolish—it puts him out of action for, like, eight-plus months—the plummeting Lakers have reached a point where less of Kobe is more of Kobe, if only because it's a health-friendly concept.
Most of all, though, Kobe isn't one to bow out like this when he has the option of trying otherwise. Next season may not be much better, thereby forcing him to leave a on low. But for now, he has the chance to play longer and make sure that low never comes.
You better bet that, for better or worse, he seizes it.
Dan Favale is a firm believer in the three-pointer as well as the notion that defense doesn't always win championships. His musings can be found at Bleacherreport.com in addition to TheHoopDoctors.com.