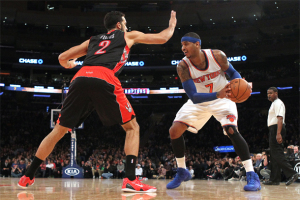 ESPN and the NBA today announced that they are cutting back on televised New York Knicks games in favor of the Toronto Raptors who are in first place in the Atlantic and second in the Eastern Conference.
The Knicks are on a 13 game losing streak, a new record for the franchise in one single season. Even with the big market draw, the losing just can't be ignored says ESPN….
"The Knicks come with a built-in advantage — the additional media exposure that comes with playing in the nation's largest television market," said consultant Lee Berke, chief executive officer of LHB Sports, Entertainment and Media. "But when you've lost 13 straight and your record is 5-33, it doesn't matter where your team is located. You're no longer a national ratings draw."

The Raptors lead the Atlantic Division with a 24-10 record, while the Knicks are tied with Philadelphia and Minnesota for the fewest wins in the league. (Via)
Even with Carmelo Anthony's offensive skills on full display this season, most NBA fans would prefer to watch the ball sharing, high flying Toronto Raptors over the poor defensive New York Knicks.
Who would you rather watch? Raptors or Knicks?