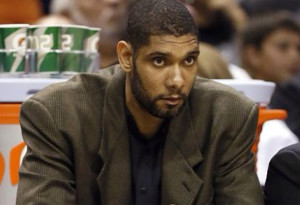 The Spurs are the type of organization that just go about their business and don't typically look for a pat on the back. Tim Duncan's latest gesture speaks to that.
The future hall of famer just recently made contribution to the San Antonio Cancer Genome Project, the team announced:
San Antonio Spur, Tim Duncan, through the Tim Duncan Foundation and Blackjack Speed Shop, has made a landmark donation of $247,000 to the San Antonio 1000 Cancer Genome Project, a Texas not-for-profit 501 (c) (3), Open Science research project launched in 2012 by START. Based in San Antonio, START's mission is to accelerate the development of new anticancer drugs through Phase I research. With four clinic sites on three continents (the US, Spain and China), START is the largest provider of Phase I testing and treatment for patients with advanced cancer. START's Phase I researchers can uniquely claim direct, hands-on involvement with the clinical development of 18 FDA approved anti-cancer drugs that are now in use by oncologists around the world.

The San Antonio 1000 Cancer Genome Project is a one-of-a-kind cancer genome research project that has the unprecedented support of more than 200 surgeons, oncologists, and cancer researchers from a broad spectrum of affiliations. This unparalleled collaboration is enabling researchers to step beyond the institutional barriers that currently fragment and piecemeal cancer research, and makes the San Antonio 1000 Cancer Genome Project the largest community-wide undertaking of its kind.