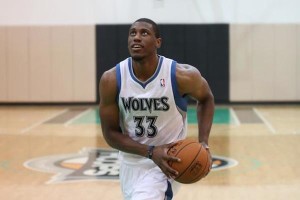 Thaddeus Young believes in the Minnesota Timberwolves.
It's been forever since the Timberwolves made the playoffs (i.e. 10 years). Not even Kevin Love was enough to slingshot them up the Western Conference standings and into the postseason. That's one of the many reasons why dealing him was so painful: He's a superstar, and superstars help you make the playoffs. Sending him to the Cleveland Cavaliers was a submission to starting over, from scratch, as a raw, developing, loss-piling rebuilding team.
Apparently, though, Young—who was acquired as part of that Love deal from the Philadelphia 76ers—didn't get that memo.
Talking with Alex Kennedy of Basketball Insiders, Young made it clear he has higher-than-high hopes for his new team:
"I think with the pieces that we have in this room today, we can go out there and potentially be a playoff team," Young told Basketball Insiders. "I think the biggest goal at hand is to make it back to the playoffs and end this 10-year playoff drought. Right now, our main focus is to go out there and get better as a team each and every day and try to get ourselves a good playoff spot.

"I think the sky's the limit for this team. If it's not this year, then it's the following year. We have really good pieces on this team as far as young guys and we have solid veterans as well. I think we all complement each other very well, enough to go out there and do some things."
What. An. Optimist.
Still, I have to ask: Is Young for real? Or is he just so used to playing on a Sixers team with little to no NBA, NCAA or YMCA talent that he's merely basking in the glory of trying to win games?
Let's split the difference, and say it's a little bit of both.
The playoffs are an unrealistic expectation for the Timberwolves right now. This isn't to be confused with impossible. That pertains to the Los Angeles Lakers. In the Timberwolves' case, they have tons of talent that renders them an intriguing watch now, from Young to Andrew Wiggins, to Ricky Rubio and Zach LaVine, to Mo Williams and Gorgui Dieng, to Nikola Pekovic and Kevin Martin. It's not entirely implausible for the Wolves—who are 1-2—to chase a playoff spot now, in the first year of the post-Love era.
It's just unlikely.
Even with the injury bugs out in full force, the Western Conference is stacked. There isn't a playoff team from last year that looks ready to fall off completely, and then you have healthier Denver Nuggets and New Orleans Pelicans squads to cut through. And then there's the point guard-collecting Phoenix Suns.
To flirt with a postseason berth, the Timberwolves will need at least 48 wins, probably more. That's tough to secure in the West, especially for a team like the Wolves, who won just 40 last year and now employ scores of new faces and novices.
Young's intentions are pure, though. They encapsulate the optimism currently floating around Minnesota.
The Timberwolves, while lottery-bound, have reason to hope that their playoff drought will end relatively soon.
Dan Favale is a firm believer in the three-pointer as well as the notion that defense doesn't always win championships. His musings can be found at Bleacherreport.com in addition to TheHoopDoctors.com.