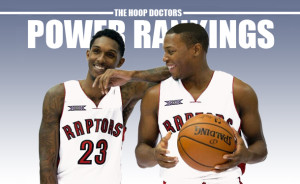 There's a lot for the NBA to be thankful for this time of year.
Stephen Curry's bombs; Marc Gasol's everything; the Mavericks offense; the Kings' illogical record; Jimmy Butler's surge; Anthony Davis' god mode; San Antonio being San Antonio; Damian Lillard's cold-bloodedness; and so much more.
Truth told, there is also plenty the league could do without
The Knicks offense; the Knicks defense; the Pistons' everything; the Knicks offense; Lionel Hollins' disdain for Brook Lopez; the Knicks offense; the Sixers' anything; the Knicks offense; Kobe Bryant's mid-shot clock shot selection; the Knicks offense; Charlotte's three-point shooting; and so much more.
Oh, and also the Knicks offense.
As y'all prepare to stuff yourselves silly with Thanksgiving Day starches, count your blessings. I know I am.
After you're done, come hither. We have teams that need ranking.
*Welcome back to The Hoop Doctors' PG-13 NBA Power Rankings, where almost anything goes. Language may sometimes not be suitable for those reading at work, in which case I recommend you don't read these aloud or you get a new job. Like most PG-13 movies, we'll permit one F-bomb per post. Those devoid of a sense of humor need not proceed.
***For a week by week list of all our NBA Power Rankings this season, please visit this page.
NBA Power Rankings
| | |
| --- | --- |
| 1 | |

Golden State Warriors

Stephen Curry is a distance-shooting deity, Andrew Bogut is doing everything and Klay Thompson looks like he'll be worth the contract. It's officially good to be a Warriors fan.

Last Week (1)

| | |
| --- | --- |
| 2 | |

Memphis Grizzlies

Incredible start for the Grizzlies. But is their oddly efficient offense sustainable? That's the question.

Last Week (2)

| | |
| --- | --- |
| 3 | |

Toronto Raptors

All hail the Raptors, and their defense, and Terrence Ross' shooting, and Lou Williams' offensive explosions, and Kyle Lowry's everything, and Masai Ujiri's "Suck it, Denver" dance.

Last Week (5)

| | |
| --- | --- |
| 4 | |

Houston Rockets

Starting to not believe in this team. No way their top-notch defense sticks, and their offense is crumbling under the weight of James Harden everything.

Last Week (4)

| | |
| --- | --- |
| 5 | |

Portland Trail Blazers

Why must you continue to make us believe, Portland?

Last Week (6)

| | |
| --- | --- |
| 6 | |

San Antonio Spurs

Gregg Popovich has the Spurs in spectacular stealth mode.

Last Week (7)

| | |
| --- | --- |
| 7 | |

Dallas Mavericks

Fairy dust + superhero sweat + locks of Unicorn hair + Dirk Nowitzki fadeaways = Dallas' offense.

Last Week (6)

| | |
| --- | --- |
| 8 | |

Sacramento Kings

I just…I mean…I don't…I honestly can't…

…

…

To hell with it. No one understands the Kings.

Last Week (13)

| | |
| --- | --- |
| 9 | |

Phoenix Suns

Phoenix's offense is showing signs of life. So too is Goran Dragic. Yay.

Last Week (14)

| | |
| --- | --- |
| 10 | |

Washington Wizards

While Bradley Beal only just returned, I can't help but complain about the Wizards' middling offense. It should be more than a fringe bottom-10 unit.

Last Week (11)

| | |
| --- | --- |
| 11 | |

Los Angeles Clippers

Remember when the Clippers defense wasn't a stumbling, bumbling, crumbling mess of missed rotations and zero rim protection?

Last Week (12)

| | |
| --- | --- |
| 12 | |

Chicago Bulls

Injuries threaten to derail Chicago's lofty title hopes. Jimmy Butler threatens to use the rest of the NBA as his own personal chew toy.

Last Week (3)

| | |
| --- | --- |
| 13 | |

Cleveland Cavaliers

Still good faith-ing it here by not overreacting to their slower than slow start. Also, that LeBron James finally isn't trying to absolve himself of blame helps.

Last Week (10)

| | |
| --- | --- |
| 14 | |

New Orleans Pelicans

Most of the time I can't tell whether Anthony Davis is playing basketball or waging intergalactic takeover.

Last Week (11)

| | |
| --- | --- |
| 15 | |

Atlanta Hawks

Slowly, surely, the Hawks are climbing the Eastern Conference ladder—which is a lot like playing tennis with the net down.

Last Week (19)

| | |
| --- | --- |
| 16 | |

Miami Heat

Admirable effort from the Heat in light of Dwyane Wade's injury. Still, their dependence on players like Shawne Williams and James Ennis is disconcerting.

Last Week (12)

| | |
| --- | --- |
| 17 | |

Milwaukee Bucks

Dear Jason Kidd,

Play John Henson more or trade him to a team that will.

Signed,

Me

Last Week (16)

| | |
| --- | --- |
| 18 | |

Denver Nuggets

Denver lives! Danilo Gallinari lives! There is hope for this logjam-overloaded team yet.

Last Week (25)

| | |
| --- | --- |
| 19 | |

Indiana Pacers

If the Pacers make the playoffs, even in the Eastern Conference, Frank Vogel deserves Coach of the Year in addition to Coach Able to do the Most with Basically No Talent or Hope Whatsoever of the Year.

Last Week (22)

| | |
| --- | --- |
| 20 | |

Orlando Magic

Almost 25 percent of the way through 2014-15, there's still a chance the Magic could make the playoffs. Because, Eastern Conference.

Last Week (18)

| | |
| --- | --- |
| 21 | |

Brooklyn Nets

Money well wasted.

Last Week (20)

| | |
| --- | --- |
| 22 | |

Utah Jazz

Dante Exum needs more playing time. Trey Burke needs to be more like Dante Exum.

Last Week (17)

| | |
| --- | --- |
| 23 | |

Boston Celtics

Holy hell the Celtics' offense, while regressing to the mean, is still fun. Rajon Rondo ball-fakes, oh how I've missed you.

Last Week (21)

| | |
| --- | --- |
| 24 | |

Charlotte Hornets

For a team that specializes in defense, the Hornets sure don't play a lot of defense.

Last Week (23)

| | |
| --- | --- |
| 25 | |

Los Angeles Lakers

Smell that? It's the scent of gravy-drenched stuffing and mashed potatoes mixed with Kobe Bryant misses.

Last Week (27)

| | |
| --- | --- |
| 26 | |

New York Knicks

Yuck.

Last Week (28)

| | |
| --- | --- |
| 27 | |

Minnesota Timberwolves

Super, super, super angry this team isn't healthy. They figured to be so much fun.

Last Week (29)

| | |
| --- | --- |
| 28 | |

Oklahoma City Thunder

Scott Brooks' lack of play-calling mastery has been seriously exposed in Kevin Durant's and Russell Westbrook's absences. Let's see if there's enough time for them to save him and the Thunder.

Last Week (24)

| | |
| --- | --- |
| 29 | |

Detroit Pistons

Being bad has never looked so not good.

Last Week (28)

| | |
| --- | --- |
| 30 | |

Philadelphia 76ers

Let's set the over/under on the number of wins the Sixers collect this season at -2,507,129, shall we?

Last Week (30)