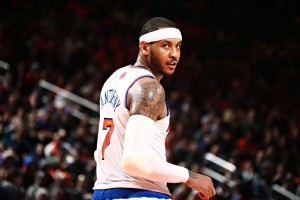 Carmelo Anthony didn't re-sign with the New York Knicks to keep scoring like he's Kevin Durant.
Everything the Knicks have done since the end of last season has been about giving Anthony help. Yes, they're trying to instill a new culture, and yes, Phil Jackson has made it very clear no one player, including Melo, will be bigger than his ultimate vision. But every team and vision needs a building block. Melo is the Knicks' foundation. Their offseason moves and system change are, more than most other things, a chance for them to give him the help he didn't have last season.
And although both Anthony and Jackson have reiterated the need for patience and emphasized future additions, the triangle offense should, in theory, begin to lighten Melo's load. At least, that's what he's preparing for, per ESPN New York's Ian Begley:
"I don't think I'll be the scoring champ. Especially with this system, the way we're playing — the way that it's going to be well-balanced, the style of play we're going to have, I don't think I'll have to lead the league in scoring this year," Anthony said after the Knicks' practice.

…

"I think shots will be fewer," Anthony said. "I think it will be more effective shots. So if that means taking fewer shots, then that's what's going to happen.

…

"What I like so far is, throughout the game you don't have to really focus on getting me the ball or me trying to score in bunches or just coming down and throwing the ball to me and everybody just watching," Anthony said. "Everybody will be part of the game; everybody will feel like they have something to do with the game.
All this talk of selflessness and teamwork and collective success sounds great. It really does. It sounds even better knowing how Melo has played alongside other superstars in passing-packed offenses, like those of Olympics and All-Star teams. He can thrive as a spot-up shooter, becoming even more dangerous when he's not forced to create his own shots again and again and again.
That the triangle aims to create a similar ebb and flow is sort of exciting. Just imagine what Anthony can do when the offense is less predictable and his shots a bit easier. Scoring less will seem like a gift.
Except Melo may not reap those benefits right away. If the Knicks start him, Jose Calderon, Iman Shumpert, Quincy Acy and Samuel Dalembert like expected, he'll be the only true scorer of the bunch. Not one of those other four has lifetime scoring averages north of 10.2 points per game. The pass-first Calderon instantly becomes his best sidekick. So if that's the lineup New York trots out, the offensive onus will still be on Melo.
On top of that, Michael Jordan and Kobe Bryant were scoring machines in the triangle. They spent 17 combined seasons playing in this system. Fifteen of those 17 seasons saw one of them pile on 25 or more points a night. Jordan did so in all eight of his seasons under Jackson; Bryant did so nine times in 11 years.
Signs don't point to Melo scoring less. If anything, given the Knicks' roster and what we know about featured scorers—Jordan and Kobe—in the triangle, his point totals will increase.
Dan Favale is a firm believer in the three-pointer as well as the notion that defense doesn't always win championships. His musings can be found at Bleacherreport.com in addition to TheHoopDoctors.com.