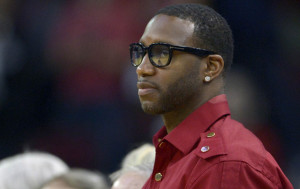 It was tough watching the final days of Tracy McGrady's career. A former scoring champ, he was barely able to make a roster his last few seasons. To his credit, he seemed to cope with his exit from the game rather gracefully.
But is he getting that itch again? According to Yahoo!, T-Mac recently worked out with Kobe Bryant as a gauge to see if he can still play. He's apparently considering making a comeback. Even if he's serious, his chances are very slim.
"Yes, I was working out with K.B. to get in shape and see how my body feels," McGrady told Yahoo Sports in an email Tuesday night.

At least two NBA teams were contacted over the summer about their potential interest in McGrady, but none registered a desire to further explore the possibility, league executives told Yahoo Sports.
H/T: Yahoo!