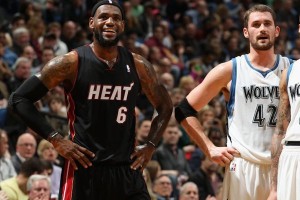 Perhaps y'all should wait to purchase Kevin Love Cleveland Cavaliers jerseys. Just for a second.
Or forever.
Love to the Cavaliers is done. It's something we've been saying since LeBron James returned to Cleveland. Love is coming, Andrew Wiggins is going, the Cavaliers are a superteam. Stuff is getting real, even if it isn't real. The trade cannot be made official until August 23, one month after Wiggins signed his rookie deal, but it's done. It's the most official unofficial deal there ever was or could ever be.
We think.
According to ESPN.com's Marc Stein and Brian Windhorst, the NBA could block said trade for reasons beyond its hatred of Cleveland and James' hairline:
The Cavs and Wolves have been operating under the assumption for weeks that they soon will complete the blockbuster trade, but the teams have purposely tried to avoid confirming the deal to adhere to strict league rules on the matter, according to NBA front-office sources. …

The Cavs were granted permission last month by Minnesota to speak to Love and his representatives in an introductory fashion, sources say, while James and Love have also been in direct contact in recent weeks about their long-term intentions of playing together.

On Thursday, Yahoo! Sports reported that the Cavs and Wolves have agreed to a trade in principle and that Love has an agreement to re-sign with the Cavs next summer for five years, $120 million after opting out of his contract.

But sources insist that no agreement for Love to sign an extension in Cleveland next summer — when he can become a free agent — is in place.

In addition, under NBA rules, such an agreement would be illegal, and, if proven, it potentially could be grounds for the league to block this trade and dole out punishment to both teams.
Yeah, wow.
That whole "Kevin Love has agreed to sign a five-year deal with Cleveland next summer" thing always seemed fishy. And perhaps whatever under-the-table promise he has with the Cavaliers is illegal. But good luck proving anything.
Unless the Cavaliers and Timberwolves were foolish enough to get something in writing—or daft enough to have an NBA-rule-bashing conversation recorded by V. Stiviano—this situation isn't going to yield a Joe Smith-esque ending. There's just no proving any wrongdoing, especially if the Cavs were granted permission to speak with Love and his camp.
All Love probably did was offer a verbal agreement. Or tell LeBron over brandy and chocolate-covered snails that he's hell-bent on staying in Cleveland so long as he's there. This is probably what we're looking at.
This whole investigation—if there even is an investigation—only becomes an issue if Love signed a contract already or something, putting pen to paper on a deal he cannot accept until next July. Does anyone truly see that happening? Like, seriously?
Blocking this trade certainly adds a layer of intrigue to next season, and the Love saga in general, but it's beyond unlikely. Love isn't seeking Smith or Chris Paul out for advice right now.
Maybe he's apartment hunting in Cleveland or wrestling with Ricky Rubio or twiddling his thumbs through his beard whilst thinking about what kind of "Welcome Home!" gift LeBron will inevitably get him. But neither he nor anyone else should be panicking over this trade falling through, because chances are, it won't.
Dan Favale is a firm believer in the three-pointer as well as the notion that defense doesn't always win championships. His musings can be found at Bleacherreport.com in addition to TheHoopDoctors.com.