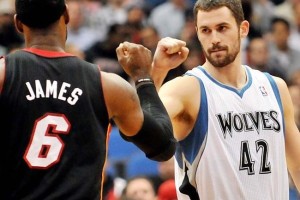 Kevin Love isn't going to pull a LeBron James in Cleveland.
The Cleveland Cavaliers showed off their fancy new stretch-forward toy on Tuesday. To no one's surprise the spectacle was met with immeasurable fanfare and crazy-ass hype. The deal everyone had been waiting for to be officially done is finally done. Love is actually a member of the Cavaliers. LeBron is officially in the running for Executive of the Year.
Not to be overlooked in all the hoopla was Love's future. He can become a free agent next summer, at which point he could leave for a team that promises him a more prominent role and flashier market. It's the escape clause that was a hot-button issue for some—like myself—at the beginning of everything. Why forfeit Andrew Wiggins, a potential superstar, for Love, an established superstar, when said superstar could jump ship in less than one year's time?
Nobody-walks-out-on-LeBron concepts be damned, it seemed like a legit possibility. Love's initial list of preferred destinations didn't include the Cavaliers. It read like a what's what of big-ass markets. That he changed his mind so quickly was cause for concern.
And then it wasn't.
Word soon broke that Love would re-sign with Cleveland next summer, inking a brand-spanking new five-year deal. Just like that, the Cavaliers and their fans were put at ease. The only thing left was to hear it from the horse's mouth.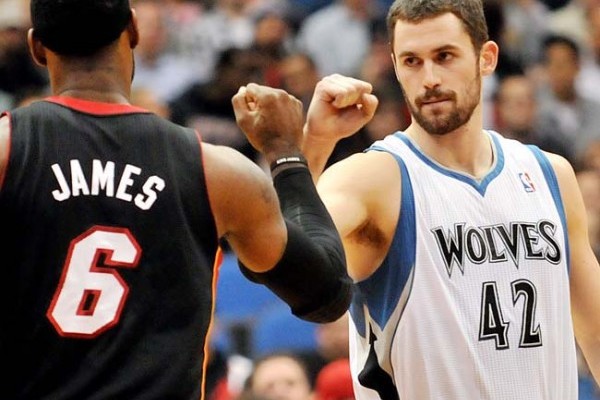 On Tuesday, that bearded horse spoke, and per Chris Fedor and Northeast Ohio Media Group, he confirmed what most of us already thought to be true:
"That is something that hasn't been talked about, but like I told (David) Griffin in our meetings and Dan Gilbert as well and the powers that be in the front office and all the way down, I'm committed to this team, committed long?term to the end goal and that is to win championships and to win a championship here in Ohio. We know it's earned, not given, but every day is an opportunity for us to get better and try to seize that opportunity."
Subtle, but not evasive. Indirect, yet decisive. Love navigated his first Cavs presser expertly. What he said there left him an out, yet sounded like a commitment. It's ingenious.
Time must pass before anything is signed, though. Next summer Love could change his mind. If he hasn't promised the Cavaliers he'll return, he doesn't have to return. That will undoubtedly be a (forced) storyline this season when the Cavaliers are slogging through a rough patch.
But after everything the Cavs have been through these last four years, there's no way they make this deal without that assurance. They wouldn't give up Wiggins for a potential rental. Not even LeBron could be that impulsive or shamelessly demanding. Asking the Cavaliers to hedge their bets on a flight risk would be foolish, for both him and the franchise itself.
Someway, somehow—illegal or not—Love has promised the Cavaliers he isn't going anywhere. Freedom was the price he paid by prematurely orchestrating his exit from Minnesota. For him, free agency has already happened. Barring a change of heart that, simply put, isn't coming, it's now done and over with for the next half-decade.
Dan Favale is a firm believer in the three-pointer as well as the notion that defense doesn't always win championships. His musings can be found at Bleacherreport.com in addition to TheHoopDoctors.com.