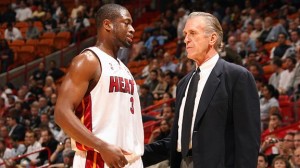 LeBron James broke the Miami Heat's Big Three.
He did not break Pat Riley's spirit.
There is no replacing King James, the best NBA player on the face of this planet, the point guard, point forward, stretch forward, power forward, small forward amalgam who will go down as one of the greatest, if not the absolute best, to ever play this beautiful game. He is irreplaceable. But the Heat won't let his departure cripple their potential.
It's going to hurt, no doubt. The Heat are no longer legitimate title threats, no longer capable of contending with the indomitable San Antonio Spurs, who make a mockery of age and logic and defenses. That's where LeBron's exit is really going to hurt.
But in the aftermath of LeBron returning the Cleveland Cavaliers, the Heat have acted swiftly, intelligently, assembling a roster that remains impressive and capable of making the playoffs out east.
Signing Chris Bosh to a max deal was expensive. Retaining Dwyane Wade won't be cheap—even if only in terms of length—either. This team can still win, though, thanks to the flurry of action Riley has quarterbacked:
Free agent forward Luol Deng has agreed to a two-year, $20 million deal with the Miami Heat, league source tells Yahoo Sports.

— Adrian Wojnarowski (@WojYahooNBA) July 13, 2014
Chris Andersen — the Birdman — reaches agreement on a multi-year deal to return to the Miami Heat, league source tells Yahoo Sports.

— Adrian Wojnarowski (@WojYahooNBA) July 14, 2014
Mario Chalmers is returning to the Miami Heat on a two-year deal, sources tell ESPN

— Marc Stein (@ESPNSteinLine) July 13, 2014
Retaining Mario Chalmers and Chris Andersen may not feel like much. Snagging Luol Deng doesn't alleviate that empty feeling completely either. Yet this is a start.
When pairing Deng, Chalmers and Andersen with Bosh, Josh McRoberts and Danny Granger, and the inevitable returns of Wade and Udonis Haslem, the Heat have something.
That something isn't LeBron. That something probably doesn't even make it out of the Eastern Conference.
That something is, however, still a formidable playoff team within a baseborn Eastern Conference.
That something, depending how much of a yearly discount Wade takes, and depending how many of these other deals—Birdman's, Deng's, etc.—are backloaded with options, still leaves the Heat with some financial flexibility moving forward.
That something, this something, still gives Miami hope.
The Heat have brought in and retained players who believe, who understand that this team is more than LeBron and his departure.
Proud to say I'm back wit the heat. Heat nation we still here

— Mario Chalmers (@mchalmers15) July 13, 2014
Ready for the next challenge in my career. #HeatNation goes on! pic.twitter.com/tAFXFSLTCk

— Chris Bosh (@chrisbosh) July 12, 2014
Work still needs to be done in Miami. The Heat don't have a true point guard. Not in Norris Cole, not in Chalmers, not in rookie Shabazz Napier. The latter is their best playmaker at the moment. Wade could even be coined their No. 1 assist man at this rate. That will need to change.
More insurance for Wade will be needed, too. He won't suddenly play in 75, 80 games a season now that LeBron is gone. There will still be a maintenance program, a conscious awareness of how fragile he is.
There will also be chemistry issues. LeBron willed cohesion into existence at points. The Heat will have to find new avenues of synergy.
And yet this is still a start.
A damn good one.
Riley's blend of shrewd and expensive moves has left the Heat relevant, in position to contend for a playoff spot, within reach of a top-five conference finish.
It has left the Heat with an identity, a puncher's chance and a fighting hope without the league's most indispensable player.
Dan Favale is a firm believer in the three-pointer as well as the notion that defense doesn't always win championships. His musings can be found at Bleacherreport.com in addition to TheHoopDoctors.com.