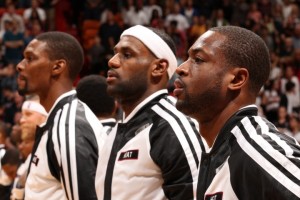 Poise under pressure is a difficult thing to master, but Miami Heat president and resident hair-slicker-backer Pat Riley has it down, well, pat.
When LeBron James, Dwyane Wade and Chris Bosh opted out of their contracts, it was considered a good thing. They would re-sign. And not only would they re-sign, they would all take a pay cut, bringing with them at least one more significant piece to the puzzle.
Would it be Carmelo Anthony? Kyle Lowry? Trevor Ariza? Luol Deng? God himself? We didn't know; Riley didn't know. But something big was brewing. Something huge.
Something dramatic.
Confidence has seemingly been waning in recent days. LeBron, at times, seems ready to shuffle off to the Cleveland Cavaliers, and Bosh is busy entertaining a superstar-sized contract from the Houston Rockets.
I'm told, by multiple sources now, LeBron agent Rich Paul told Cavs he's impressed w what they've done and what they can still do to roster.

— Sam Amico (@SamAmicoFSO) July 7, 2014
Max offer from Houston to Bosh is 4 years, $88 million

— Chris Broussard (@Chris_Broussard) July 7, 2014
Things took a turn for the weird on Monday, with the Heat inking veterans Josh McRoberts and Danny Granger to contracts:
ESPN learned that Josh McRoberts has verbally committed to sign with the Miami Heat

— Marc Stein (@ESPNSteinLine) July 7, 2014
Free agent Danny Granger has agreed to a two-year, $4.2 million deal with the Miami Heat, league sources tell Yahoo Sports.

— Adrian Wojnarowski (@WojYahooNBA) July 7, 2014
The Big Three opted out for these guys? McRoberts and Granger? Surely this, at best, meant nothing.
Only it meant something.
Granger's and McRoberts' contracts suggest the Heat are working as a capped out team. And the only way they would be a capped out team is if Bosh, Wade and LeBron ALL return. Though both deals seem kind of steep—why couldn't Granger be had for the minimum?—they could mean something good is in store for the Heat.
Riley seems to think so anyway, according to USA Today's Sam Amick:
Seven days into free agency, Miami Heat President Pat Riley made his first roster moves to show LeBron James why he should stick around.

This much is clear: Riley is confident James, Chris Bosh and Dwyane Wade will return, according to people who have had phone conversations with Riley in the last week. The people spoke to USA TODAY Sports under the condition of anonymity because of the sensitive nature of the conversations.

Of course, Riley's confidence doesn't guarantee anything. But right now, he isn't scrambling.
No, he's not scrambling. He's just spending on marginal role players who inconsequentially move Miami's needle, which either suggests he's given up and gone batshit crazy in the process, or the Heat's Big Three have decided they're a talented enough core to remain together and continue winning championships without a fourth star or fringe-star.
Anything can still happen, to be sure. Free agency is a weird beast. When egos and money and winning and convenience and family and attention and legacy all come into play, almost nothing is off limits. Contracts cannot be signed until July 10. All agreements are essentially conditional and synthesized out of good faith. Players can still change their minds. Teams can still travel in different directions.
But you get the sense Miami is still in the driver's seat. There's no other reason why the Heat would have signed Granger and McRoberts. If the Big Three were leaving or disbanding in any way, these aren't the kinds of modest, bench-deepening moves we would be reading about.
There would be chaos and panic. More would be known about Bosh and James than there is now. The Big Three are no less likely to remain in Miami than they were before, hence Riley's justified confidence and the mounting feeling of inevitably once again surrounding their returns.
Dan Favale is a firm believer in the three-pointer as well as the notion that defense doesn't always win championships. His musings can be found at Bleacherreport.com in addition to TheHoopDoctors.com.