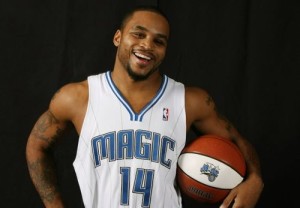 Rarely does a player remain with the same team all throughout his career, and it seemed as if Orlando Magic point guard Jameer Nelson would be included in this very short list.
The former all-star from St. Joseph's University was drafted back in 2004 together with Dwight Howard. And with the combination of him and Howard, they were able to turn the Magic back into championship contenders for a few years. But when Howard decided to depart from Orlando—Nelson stayed, while the franchise had to go into rebuilding process once again.
Now after a 10-year stint in Orlando, Nelson has been released by his first and only team, according to Joshua Robbins of the Orlando Sentinel.
The Orlando Magic have decided to waive Jameer Nelson, the Orlando Sentinel has learned.

— Josh Robbins (@JoshuaBRobbins) June 30, 2014
For the Magic, the future is already looking bright with a rising star like Victor Oladipo and newly acquired super rookies Elfrid Payton and Aaron Gordon. It seemed clear to the Magic that their longtime point guard isn't needed anymore and it's time for Nelson to begin look at another direction in his NBA career.
At the age 32, Nelson is still a very capable point guard that can prove to be of huge benefit for any team in the league. We shouldn't forget that he is the all-time assist leader for the Magic, and all those years he accumulated with them have certainly helped him become one of the elite point guards of this generation.
That being said, it's very unlikely for teams to easily pass on signing a player like Nelson, because he definitely still has some fuel left in the tank.