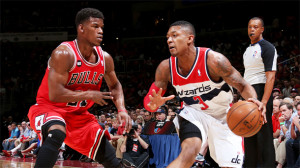 Imagine winning a playoff series for the first time since 2005, that to against the higher seeded Chicago, as well as winning a second-round playoff game for the first time since 1982 in the space of a month.
You would think that all signs would be pointing upwards, but instead the Washington Wizards were continuously derided for losing against what seemed to be a weak Indiana Pacers team, that did not look as if they should have beaten the Atlanta Hawks in the first round.
The thing about basketball is that critics can be turned into supporters in the matter of an offseason.
For example, in the summer of 2010, when LeBron James, Chris Bosh and Dwyane Wade were all free agents, the verdict was out that the Heat would be a mediocre team in the Eastern Conference, but when the cards began to be stacked in Pat Riley's favor and all three decided to sign with Miami, championship thoughts began to ring throughout South Beach.
This change was much more subdued, but nevertheless, the Wizards have played the market, and succeeded tremendously thus far this offseason. Some, including myself, may even label them as the team that has improved the most this offseason.
The Wizards have been active throughout July as they acquired DeJuan Blair, and Kris Humphries through sign-and-trades, while signing Paul Pierce to a two-year, $10.8 million deal in free agency. Though the Wizards let Trevor Booker walk for a two-year deal of his own with the Utah Jazz, Washington did re-sign key pieces in Andre Miller (team option), Marcin Gortat and Drew Gooden.
As of right now, the Wizards depth chart seems to come out looking like this:

Point Guard: John Wall, Andre Miller, Garrett Temple
Shooting Guard: Bradley Beal, Martell Webster
Small Forward: Paul Pierce, Otto Porter, Glen Rice Jr.
Power Forward: Nene Hilario, DeJuan Blair, Drew Gooden
Center: Marcin Gortat, Kris Humphries, Kevin Seraphin, Melvin Ely
With the starting lineup shaping out to be Wall, Beal, Pierce, Nene, and Gortat and the second unit looking like it will be Miller, Webster, Porter, Blair, and Humphries. Gooden, and Rice Jr. will likely fill out the final rotation spots meaning the Wizards now have 12 players capable of making a difference, and with that, I think we can firmly call the Washington Wizards contenders in 2014.
Building off of personal success in 2013, Wall will be the Wizards strongest asset. Wall, the first overall pick in the 2010 NBA Draft, had a strong regular season run as he averaged 19.3 points per game, 8.8 assists per game, 4.1 rebounds per game, and 1.8 steals per game with a PER of 19.61.
One weakness that arose in both the regular season as well as the playoffs was Wall's shooting percentage from the field. Wall, 23, shot 43.3% from the field over the full 82-game regular season, and 36.6% from the field over 11 playoff games.
Wall must look to be the staple of team success, and for that to occur, his efficiency must increase. Regarded as the superstar of the team, Wall must step up and prove his worth come next season as both the team leader, and floor general.
Coming up next in the lineup is budding star, Bradley Beal. Beal, the third overall pick in the 2012 NBA Draft, will have more pressure than he has ever anticipated or received in his previous two years in the league.
Why is that?
He is going to have to step up and be either the go-to option on offense, or play second fiddle to Wall. Neither is bad thing for the third year players growth. Being the second fiddle to Wall on offense will allow for Beal to develop his game for another season while also being a core member of the offense. On the flip side, if regarded as the go-to option, Beal will get the touches he will eventually endure in the NBA, meaning his development will likely occur at a faster rate.
Over the course of last season, Beal took his game to a new standard as he posted career highs in nearly statistical field, as well as being the offensive leader in the playoffs.
Beal averaged 17.1 points per game, 3.7 rebounds per game, 3.3 assists per game, and 1.0 steals per game over the course of 73 regular season games. Beal took his game to a whole new level come playoff time, and it showed as Washington dismantled Chicago 4-1 in the first round. Beal averaged 19.2 points per game, 5.0 rebounds per game, 4.5 assists per game, and 1.6 steals per game while playing 41.6 minutes per game over 11 playoff games.
Much like Wall, the area of improvement for Beal is shooting. With an adept touch from behind the arc (40.2% in the regular season, and 41.6% in the playoffs), Beal struggles to gain momentum inside the arc as he shot 41.9% from the field in the regular season, and 42.4% in the playoffs (career 41.6% shooter). Beal is a multifaceted talent, but shooting efficiency will be a key for him as he looks to establish himself as a bonafide star and potent scorer in the association.
Getting Paul Pierce was one of the biggest moves for the Wizards this offseason. After losing Trevor Ariza, a premier wing defender, and a solid three point shooter, to a big money contract in Houston, Pierce was immediately brought in.
Pierce provides an adept, and consistent scoring touch from the perimeter, as well as veteran prowess in the locker room; something the Wizards have been lacking in recent memory. Over the course of last season with the Brooklyn Nets, Pierce posted 13.5 points per game, 4.6 rebounds per game, 2.4 assists per game, and 1.1 steals per game over 28.0 minutes per game in 75 games.
The veteran provides a stable presence in the lineup, while also letting younger players such as Porter Jr., and Rice Jr. thrive due to the fact that their is a minute cap on Pierce due to his age.
Playing third scoring option behind Deron Williams, and Joe Johnson in Brooklyn last season, the same will likely occur again this season, again to the backcourt duo, but if Pierce can continue his consistent shooting (45.1% in the regular season, 46.5% in the playoffs), he should be able to get his fair share of attempts and looks on offense. The big thing around Pierce's arrival is the model he will represent for sophomore players Otto Porter Jr., and Glen Rice Jr.
Rounding off the front court is duo, Nene Hilario and Marcin Gortat. Both experienced in Randy Wittman's system, as well as in the NBA, Nene and Gortat form a formidable front court duo that competes with some of the powerhouse front courts of the Western Conference.
Coming into this thirteenth year into the NBA, Nene has been a consistent offensive force since getting drafted out of Brazil. Over the course of 53 regular season games last season, Nene shone as he averaged 14.2 points per game, 5.5 rebounds per game, and 2.9 assists per game while shooting 50.6% from the field.
Nene continued his impressive productivity in the playoffs as he posted 13.7 points per game, 5.3 rebounds per game, 2.6 assists per game, and 1.1 blocks per game while shooting 46.4% over 11 playoff games.
Nene has proven to be a workhorse, and though criticisms arise such as the need for him to crash the boards with more tenacity, his below average rebounding number can be pinned to a sprained knee that kept him out of acting for six weeks during the regular season.
Nene's counterpart, Marcin Gortat, was brought in from Phoenix prior to the regular season tipping off in 2013, and the move now seems to be a coup for the Wizards with the big man exceeding expectations and proving to be one of the best centers in the Eastern Conference.
Over the course of the 2013 season, Gortat posted career highs in every statistical field, after Wittman instilled a minute increase on the European big man. Gortat, 30, averaged 13.2 points per game, 9.5 rebounds per game, 1.7 assists per game, and 1.5 blocks per game over the course of 81 games. Additionally, Gortat was an efficient shooter as he shot 54.2% from the field during the regular season.
Over the course of the Wizards 11 playoff games, Gortat averaged 13.0 points per game, 9.9 rebounds per game, 1.5 assists per game, and 1.3 blocks per game while shooting 49.2% from the field. The Wizards got this production out of Gortat, while Phoenix, in return, received Emeka Okafor, who sat out of the whole of the regular season with a herniated disk.
To some extent, Washington can claim to have a "bench mob" as well. With Andre Miller, Martell Webster, Otto Porter, Glen Rice Jr., DeJuan Blair, Drew Gooden, and Kris Humphries being the the big names off of the pine for Washington, there is a clear balance in abilities.
Miller brings that veteran prowess to the second unit; the unit he will lead as the backup point guard. Martell Webster averaged 9.7 points per game, while shooting 39.2% from the field on an average of 4.8 attempts per game making him a three point threat.
Both Otto Porter, and Glen Rice Jr. are the Wizards draft picks from the 2013 NBA Draft, and though neither got a solid run last season, both have excelled in the Las Vegas Summer League. Rice Jr. won the MVP of the Summer League as he has averaged 25.2 points per game, and 7.8 rebounds per game on an efficient 50.2% from the field, almost guaranteeing minutes in Wittman's rotation. Over six games in the Summer League, Porter showed why the Wizards had so much faith in him in last years draft, as he posted 19.0 points per game, 5.8 rebounds per game, and 1.8 assists per game on 48.4% shooting from the field, and 38.9% from behind the arc.
The three players set to back up Nene, and Gortat have all started at some point in there NBA careers, as well as been viable contributors to playoff teams. Blair is a big body who can be productive on both ends of the court. Over the course of the 2013 season, Blair averaged 6.4 points per game, and 4.7 rebounds per game while shooting 53.4% from the field, and posting an impressive 17.33 PER.
Re-signed this offseason, Gooden will be looking to make an impression after playing in only 22 regular season games over the course of last season. When on the court, Gooden impressed as he averaged 8.3 points per game, and 5.2 rebounds per game on 53.1% shooting over 18.0 minutes per game.
Humphries, coming over in a sign-and-trade from Boston, will be used primarily as a big body on the boards. Over 19.9 minutes per game, Humphries posted 5.9 rebounds per game, while also contributing on the offensive end with 8.4 points per game on 50.1% shooting.
With the Eastern Conference having improved this offseason, the Wizards will face an uphill battle to increase their seeding from the past year. Though the Heat lost LeBron James, they gained Luol Deng, Danny Granger, and Josh McRoberts, strengthening their depth.
The Cavaliers acquired LeBron James as well as Andrew Wiggins, which skyrocketed their odds of winning a championship. The Chicago Bulls acquired Pau Gasol to form a deadly tandem with Jaokim Noah in the front court. Charlotte acquired Lance Stephenson, to form an all New York backcourt with Kemba Walker. The Knicks re-signed Carmelo Anthony, as well as firing Derek Fisher, and acquiring Jose Calderon, and Samuel Dalembert.
All these moves, and many more make it so that the Wizards will have to fight it out each game if Washington wants to advance out of the second round, building on the momentum established this past season. With a well balanced team, with two young stars, and a strong bench, Washington is set up to make some noise this year in the NBA, and even if they have not been mentioned as one of the front runners to make it out of the East, don't sleep on Washington.
Ankit Mehra is an aspiring NBA journalist from Mumbai, India. Ankit has lived in London, England and currently resides in New York, New York, and has a strong following for both the NBA, and NCAA basketball.
Follow Ankit on Twitter (@amehra11) to talk sports, sneakers, street wear, and rap.