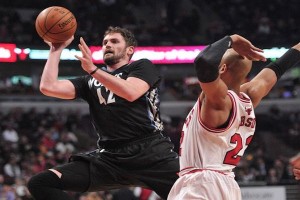 Someone, anyone, must explain the Chicago Bulls' sudden infatuation with Kevin Love.
After adding Pau Gasol to a frontcourt rotation that already includes Joakim Noah and Taj Gibson, and after basically removing themselves from the Carmelo Anthony sweepstakes by asking him to take a ridiculously large pay cut, the Bulls are apparently making a competitive offer for Love.
From the Chicago Sun-Times' Joe Cowley:
According to a Timberwolves source, the Bulls made a "significant offer'' Wednesday morning for Kevin Love, and it's an offer that is being "heavily considered.''

The source said that the two headlining names in the package were Taj Gibson and Doug McDermott, "as well as a few other assets.''

There was a report that Nikola Mirotic was also involved, but the source could not confirm that.

The Bulls continued being very mum on any trade talks.

…

As far as how the last 24 hours transpired to get the new deal on the table, as of Tuesday night, the Bulls were contacted by Minnesota and informed that the Cleveland Cavaliers had the best deal on the table, but it wasn't enough to sway them just yet.

Knowing that the window on a title is now, the Bulls upped the ante in the morning.

According to the source, the Bulls have been using backchannels with Love to figure out his desire this season, as well as after the season when he could become a free agent, and feel that he would indeed do something long-term with them.
Red flags are all over the goddamn place here.
If the Cavaliers aren't offering "enough to sway" the Timberwolves just yet, then they must not be dangling Andrew Wiggins. That, or Flip Saunders is high off his ass and thinks the Timberwolves deserve more than Wiggins, Anthony Bennett and a first-rounder—though, making the money match here is difficult and Minnesota wants to dump some bad contracts (Chase Budinger, Kevin Martin, etc.), so that could be holding things up.
More confusing is the Bulls' offer. Or rather, their interest.
Actually, both.
Acquiring Love means they'll have to bring Gasol off the bench. Love cannot defend power forwards and a defensive combination of Gasol and Love up front would be frightening enough to straighten Noah's hair. Relegating the 34-year-old Gasol to bench duty isn't a huge deal, but staggering his/Noah's minutes against Love's will be a challenge for Tom Thibodeau.
The inclusion of Doug McDermott and Nikola Mirotic makes this deal more odd still. They both just signed contracts and cannot be traded for 30 days, meaning the Timberwolves have to wait. Again, this might not be a huge deal, given that Wiggins could sign a contract with the Cavaliers any day now and pose the same problem.
And yet all of this still feels weird and agenda-driven.
Trading for Love would be intriguing, but expensive. Jimmy Butler is due for an extension and Derrick Rose is owed $60-plus million over the next three years. With the Bulls being notoriously stingy and Love being a flight risk this summer when he hits free agency, it's difficult to envision them pulling the trigger on this deal.
It's not difficult to see why the Timberwolves are interested. Combining Mirotic, Gibson and McBuckets makes for an interesting start to another rebuild. You have to wonder if the Bulls can find a way to take on a less desirable deal in return, though. The money gets weird since Mirotic, Gibson and McBuckets don't combine to make as much as Love.
Anyhow, I'd say keep your eye on this, but that's implied because of how bizarre it is. The Bulls continue to amaze and, if they pull this off, embrace the weird.
Dan Favale is a firm believer in the three-pointer as well as the notion that defense doesn't always win championships. His musings can be found at Bleacherreport.com in addition to TheHoopDoctors.com.