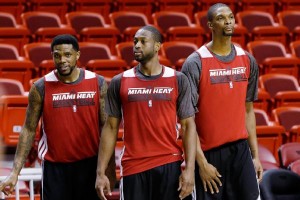 Chris Bosh's and Dwyane Wade's free-agency excursions just got a helluva lot more interesting.
Well that, or there's a lot of bullshit flying around these parts, which, admittedly, isn't unusual this time of year
Both Bosh and Wade were slated to earn over $20 million next season, but after they opted out of their contracts, it's expected they'll take less to allow Miami Heat president Pat Riley the opportunity to retool. ESPN.com's Brian Windhorst says he was hearing just that:
Heat telling free agents they will have $12+ million to spend, indicating Wade & Bosh ready to take huge pay cuts, sources told ESPN

— Brian Windhorst (@WindhorstESPN) July 1, 2014
Wait, but that would mean….yes, John Canzano of The Oregonian points out exactly what it means:
Chris Bosh's 5-year deal with Miami expected to start at $11 million in year 1. Dwyane Wade will sign four years, $12 million in year 1

— John Canzano (@johncanzanobft) July 1, 2014
Something smells funny here. Truth told, Wade might be worth somewhere between $10-12 million annually, what with his knees flaring up every other second. But Bosh is still a healthy star. His numbers don't always show it, and we've seen what happens when he's the No. 2 option surrounded by absolutely no depth, but he's worth far more than $11 million. His house, per HoopsHype, is actually worth more than that. So, yeah. What gives?
This rumor, apparently.
CBS Sports' Ken Berger and Bleacher Report's Ethan Skolnick are thinking along different lines:
agree MT @EthanJSkolnick: Based on my info, the numbers being reported for Bosh & Wade are much lower than what I expect them to accept.

— Ken Berger (@KBergCBS) July 1, 2014
Throw NBA.com's David Aldridge into their company too:
Agent Henry Thomas, on report clients Bosh & Wade will take $12M/per & $11M/per, respectively: "all the BS you are reading is just that."

— David Aldridge (@daldridgetnt) July 1, 2014
Now this makes sense.
There's no doubt that Bosh and Wade are expected to accept less money. LeBron James carried the Heat too much this past season—way too much for a team that supposedly boasts three superstars. The Heat are going to need help if they want to keep this crazy train rolling, mainly because Wade cannot be Wade anymore. Not in the sense that you can hope for him to play every night and perform at a high level when he does. The ability is there; the everyday availability is not.
But taking pay cuts that toe the line of $10 million per year? I'm not buying it. I can't. Not right now. Perhaps it winds up being true, but that's awful steep and, frankly, un-freaking-heard of. Especially for Bosh, a star still in his prime and not notorious for physical ailments.
For what it's worth, Mr. Canzano also has LeBron signing a weird deal himself:
LeBron will give zero discount to Heat. Will be max money with short duration (1-2 years).

— John Canzano (@johncanzanobft) July 1, 2014
That's some Michael Jordan ish right there. A one- or two-year deal? Come on now. Wouldn't he have just opted in for 2014-15 if that was his plan?
Maybe not. Opting out gave Riles more flexibility, and it also allows James to sign for a max salary over the next one or two seasons. It's not completely out of the realm of possibility. But it is farfetched.
It's incredibly unlikely that Wade and Bosh would commit to long-term pay cuts if they don't know how long James wants to stick around. If he has the option to escape next summer, the Heat should be very afraid. No championship, no 'Bron. It could be that simple.
It won't be, for the record. Let's clear that up now. These scenarios are unrealistic at best.
Crazier things have happened, but let's not parlay that into Bosh and Wade working for peanuts and vats of Riley's homemade hair gel just yet.
Dan Favale is a firm believer in the three-pointer as well as the notion that defense doesn't always win championships. His musings can be found at Bleacherreport.com in addition to TheHoopDoctors.com.