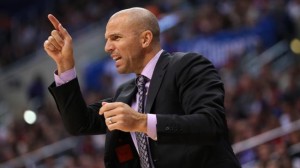 Over the weekend, it was reported that Jason Kidd approached Nets ownership and asked for/demanded a promotion. Kidd not only wanted to coach, but he was looking for GM responsibilities as well. Word is that he was taken aback that Steve Kerr and Derek Fisher make alot more money than he does. He was denied in his request.
Apparently, Kidd is good friends with new Bucks owner Marc Lasry, and that may be his next move since he probably now spoiled the relationship with ownership in Brooklyn. The two teams are reportedly ironing out compensation for Kidd's services. It's also believed that Kidd would potentially be offered just the coaching job, not the GM job as well.
After a failed power play in Brooklyn, Nets coach Jason Kidd has entered into serious negotiations to become president of basketball operations for the Milwaukee Bucks, league sources told Yahoo Sports.

Kidd made a failed coup to Brooklyn's Russian ownership to usurp the power of Nets general manager Billy King – and failed spectacularly. The Nets and Bucks are discussing compensation for Milwaukee hiring Kidd away, which will likely include second-round draft picks, sources told Yahoo Sports.

"The Russians are done with Kidd," one high-ranking league source told Yahoo Sports on Saturday night.
H/T: Yahoo