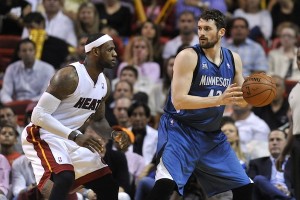 Kevin Love would welcome the opportunity to play with LeBron James.
Him, and a few hundred other NBA players.
According to ESPN.com's Andy Katz, the Minnesota Timberwolves reportedly rejected an offer for Love from the Cleveland Cavaliers that was built around the No. 1 pick in this year's draft, which turned out to be Andrew Wiggins. They were forced to reject it because Love didn't want to re-sign with the Cavs, meaning Cleveland would be forking over the No. 1 pick for an essential rental.
A deal could still get done if either side has a change of heart. The Cavs would simply construct their next offer around Wiggins. All they need is Love's stamp of long-term approval.
Which they have.
But only if they get LeBron James.
From ESPN.com's Chris Broussard:
Source who spoke with KLove says he would definitely "100 pct" stay in Cleveland longterm if LeBron is there

— Chris Broussard (@Chris_Broussard) June 27, 2014
So wait, we're supposed to believe that Love would stay in Cleveland if it meant playing alongside the best player in the world and contending for championships and dynasties for years to come? Ya don't say.
Feel free to scribble a big fat DUH across this one. Obviously Love would play for the Cavs if LeBron played for the Cavs. But does LeBron want to play for the Cavs?
I'm sticking with no.
Despite the fact that they have cap space, and despite the fact that Wiggins has already started (facetiously) recruiting LeBron, the Cavs are long shots—longer than long shots. They haven't made the playoffs since LeBron left in 2010. That's going to hurt them in any sales pitch they craft.
Could Love change that? Maybe.
LeBron tried to convince Chris Bosh to join the Cavs before they up and signed with the Miami Heat in 2010. As you can tell, that didn't go so well. If a fellow top-10 superstar like Love is willing to remain in Cleveland for at least the next four, five years, that does stand to change everything. The Cavs just need to trade for Love first.
Aside from Wiggins, it would probably entail some combination of Dion Waiters, Tristan Thompson and a future firs-round pick. Including Anderson Varejao's non-guaranteed pact would also be useful in aiding Minny's attempts at dumping salary. The Cavs could take back a less favorable contract like Kevin Martin's.
Someone stop me, though. Please. I'm slowly, surely talking myself into this trade and entire scenario. A team assembled around LeBron, Love, Kyrie Irving and K-Mart? Yes. Yes, please. Yes a thousand, million, trillion, zillion times over.
Too bad it's just not going to happen. Trading for Love is feasible. If the Cavs are slinging the aforementioned package, I'd even say likely. Selling LeBron on his return to Cleveland is a different animal, and the Cavs would have to time it just right. There's too much good faith involved as well. Is Love supposed to agree to a trade to the Cavaliers in hopes that LeBron comes? Is LeBron supposed to sign in hopes that the Cavs trade for Love? Are the Cavs supposed to trade Wiggins in a deal for Love without assurances he'll stay beyond next season?
Holes abound in this theory. As fun as it is, it's pure fantasy.
Appreciate Wiggins, Cleveland. You actually have him. And he's not leaving.
Not for another four to seven years, at least.
Dan Favale is a firm believer in the three-pointer as well as the notion that defense doesn't always win championships. His musings can be found at Bleacherreport.com in addition to TheHoopDoctors.com.