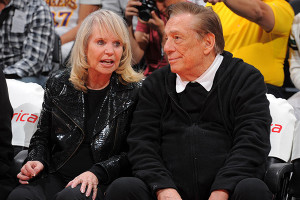 As the NBA continues its attempt to force a sale of the Clippers, Donald Sterling is scrambling for answers and ways to get around the inevitable. He reportedly planned on allowing his wife to negotiate the sale of the team. But, of course, he could be guiding her behind the scenes, so the NBA has shot down that idea, according to SI.com.
Donald Sterling is the controlling owner of the Clippers, while Shelly Sterling is a non-controlling owner. Importantly, and as explained fully here, the NBA must approve a change in designation from a non-controlling to a controlling owner.

Sources familiar with the NBA have told SI.com the league will not approve Shelly Sterling as controlling-owner. The league does not want the Sterlings involved with the NBA. The league also has wide discretion to reject new owners, including for reasons of moral character. Shelly Sterling's ties to her husband in the housing lawsuits could be grounds alone for the NBA to reject her as controlling owner (the fact that Donald Sterling was not disciplined over the housing litigation does not preclude the league from using the litigation against Shelly).
Adam Silver and the league have not waivered one bit on their stance and there's no amout of tip-toeing around that the Sterlings can do. Smart money is still on Magic Johnson's group buying the team. Time shall tell.