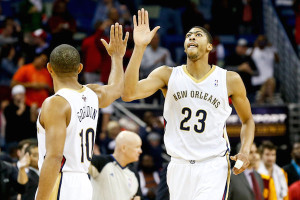 Damn.
What's a four-letter word for "this totally sucks, but it wouldn't have sucked if it had happened a tad sooner?"
Yeah, let's stick with damn while really thinking about dropping F-Bombs.
In untimely fashion, the New Orleans Pelicans announced Thursday that Anthony Davis and Eric Gordon will miss the remainder of this season:
The New Orleans Pelicans announced today that forward/center Anthony Davis (back spasms) and guard Eric Gordon (left knee) will miss the remainder of the season.

Davis was examined by team physicians, who determined that his injury will require 1-2 weeks of rest and rehabilitation.

Gordon will undergo arthroscopic surgery on his left knee next week and is expected to make a full recovery.
Like I said, this totally sucks.
Knee surgery for Gordon? Again? This isn't good.
It sucks.
The more times he injures himself, the more surgeries he has, the more it becomes apparent the Phoenix Suns—who offered him a max contract that the Pelicans matched—dodged a bullet. Plenty of bullets.
When healthy, Gordon scores. But he's rarely healthy, and his efficiency seems to be deteriorating with each passing injury.
As for Davis, this is clearly a precautionary measure. The Pelicans have nothing to play for this season. At 32-46, there's no use risking the well-being of their best player for four games that don't mean crap. They don't want him suffering one injury that leads to another and another and another, after all. They don't want him becoming the next Eric Gordon.
My question(s): Why now? Why not sooner?
Never really mind Gordon's injury. He's not able to have enough of an impact on his own, on or off the floor, for us to care about this. But Davis could have been shut down sooner. Much sooner.
The Pelicans' first-round draft pick is top-five protected. If it lands outside the top five, it goes to the Philadelphia 76ers as part of the Jrue Holiday trade from last summer. That essentially means the Pellies need to land in the top three to keep their selection.
Ping pong balls only determine the first three picks. After that, teams select in order of increasing winning percentage, so if New Orleans doesn't land in the top three it would receive No. 10 or higher as of now and therefore pass it off to Philly.
At the moment, the Pelicans have a roughly four percent chance of landing in the top three. If they lose out—which is definitely possible—that could increase to somewhere around 10 percent. Had they benched Davis sooner, though, they would have had some serious options.
Now, I'm rarely for sitting a player like Davis. He's so, so good. What kind of message would that send to him and the team? That's a legitimate concern.
But the prospect of pairing him with a top-three pick—ergo Andrew Wiggins, Jabari Parker (should he declare), Joel Embiid, etc.—should have been enough for the Pelicans to roll the dice. Holiday was already done. Ryan Anderson was already done. There was no arm in throwing in the towel a few games—maybe 10 or 15—earlier than they are now.
Doing so would have put the Pelicans in 25-win territory, bringing their top-five odds to something like 20 percent or better. Instead, they're left with the knowledge they'll probably send a top-10 or higher pick to Philadelphia, and that sucks. Not to mention they still have Gordon under contract for another two years. That sucks too.
At least they still have Brow, though.
That so doesn't suck.
Dan Favale is a firm believer in the three-pointer as well as the notion that defense doesn't always win championships. His musings can be found at Bleacherreport.com in addition to TheHoopDoctors.com.