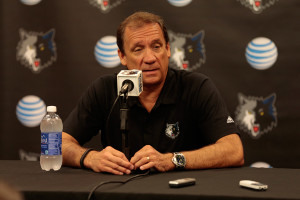 Let's call last year's NBA trade deadline what it was: Awful and boring.
Next, let's guess what this year's NBA trade deadline will be like: Potentially awful and boring.
The current collective bargaining agreement has made it so NBA teams aren't as frivolous with their spending and willingness to assume long-term contracts. Punitive luxury-tax penalties deter even the most spendthrift of franchises from going bonkers. That's just a reality now.
But this year, there are additional hurdles facing teams that want to make moves: Jabari Parker, Joel Embiid, Andrew Wiggins and Dante Exum. Oh, and Jahlil Okafor, Cliff Alexander, Myles Turner and Brice Johnson, too. That's correct, top draft prospects for this year and next are having an impact on day-to-day business dealings now.
Speaking with Wolves Now's Andy Greder, Minnesota Timberwolves president Flip Saunders described how a reluctance to relinquish draft picks is making for a stiff trade market:
Saunders said there is a reluctance to deal around the league because of the perception that this year's draft class is strong. Buzz has centered on possible top picks being Kansas' Joel Embiid and Andrew Wiggins, Duke's Jabari Parker, Oklahoma State's Marcus Smart, Kentucky's Julius Randle and Dante Exum of Australia.

"Either everyone wants to keep their picks or if you want to trade players, people are trying to get your pick and people aren't as apt to do something like that — not only this year, but next year, too," Saunders said. "I think it might be a good draft the next couple of years."
Make no mistake, this his huge.
Draft picks are valuable in trades. First-rounders are often used as intangible beacons of hope for down-in-the-dumps teams, or blockbuster-trade buffers for buyers looking to nab a superstar. If they're not exchanging hands, the number of trades going down is bound to decrease.
It's not like we're dealing with one year here, either. Teams that are not the New York Knicks or Brooklyn Nets haven't sold their future for unimpressive win-now outfits. Organizations that hold 2014 or 2015 draft picks are already looking toward the future, where highly touted draft classes await.
If you're the general manager of a lottery team, are you going to mortgage a potential top pick for a current superstar? If you're the general manager of a contending team, are you going to deprive the franchise of an opportunity to draft long-term depth in favor of a short-term answer at a certain position? Maybe, but maybe not.
Or probably not.
Remember, this is all in addition to the already-restrictive CBA. Now you have teams worrying about the luxury-tax line and draft picks up to two years in advance. In some ways, the two go hand in hand.
Draft picks are cheap talent. Rookie-scaled contracts are, for the most part, reasonable. This is especially intriguing for lottery-bound contingents because they're given the opportunity to draft an impact player without paying them an impact player's salary. This side of the CBA, that's huge. And it doesn't bode well for fans and pundits hoping the Feb. 20 trade deadline is a momentous occasion.
"If you want to make a trade to make yourself significantly better right now, then those have to be blockbuster-type trades," Saunders explained, via Greder, "and I don't think there are a lot of teams that are leaning toward doing something like that."
Not when luxury-tax and 2014 and 2015 draft-day stakes are as high as they are now.
Dan Favale is a firm believer in the three-pointer as well as the notion that defense doesn't always win championships. His musings can be found at Bleacherreport.com in addition to TheHoopDoctors.com.