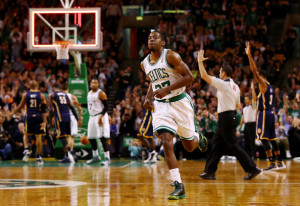 The Golden State Warriors are all in for this season. They are setting themselves up nicely to make a strong playoff run. Granted, we're not even at the all-star break yet, but for teams like Golden State, it's ok to look ahead.
Part of their master plan appears to involve the Jordan Crawford. After most of the big names vanished from Boston's roster, Crawford has provided some solid play for the Cs (13.7 ppg) and is now a Golden State Warrior.
Also, with Rondo set to return pretty soon, Crawford became expendable.
This move provides a lot of depth for the Warriors. Along with Crawford comes the much-forgetten, but very talented MarShon Brooks.
As for the Celtics, Danny Ainge continues to stockpile assets as they have a ton of draft picks coming up. And once a starter, Joel Anthony hasn't contributed the way he had in the past so you had to figure this was only a matter of time.
Adrian Wojnarowski of Yahoo Sports is reporting the Warriors have acquired guards Jordan Crawford and MarShon Brooks from the Boston Celtics. The Warriors are sending Toney Douglas to the Miami Heat with Joel Anthony heading to the Celtics. The Heat will send picks to the Celtics to complete the deal.
H/T: CBS Sports