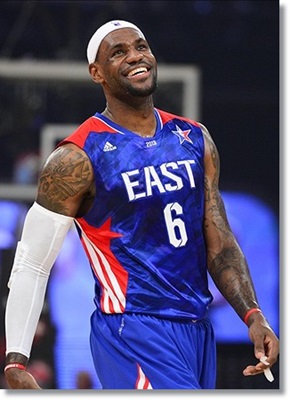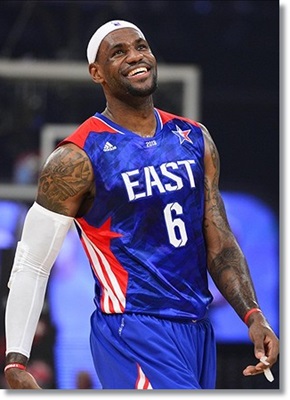 About this time every year when the 1st results come in for the upcoming 2014 NBA All Star Game, taking place February 16th in New Orleans.
Now is when we as bloggers begin to nit-pick the results and question why a player that hasn't played a game would be a conference starter of why a 35 year old future Hall of Famer well past his prime is still getting love for the All Star Game.
So, let's have at it.  Beginning with the legendary Kobe Bryant.
As of post time of this article, the "Black Mamba" has played exactly 2 games and is averaging exactly 14.5 ppg, 5 rebounds, and 3,5 assists, playing a total of 57 minutes on the season.  Yet, if the voting ended today, Kobe would make his 16th NBA All Star Game.  Bryant is a Top 5 player all time.  He gets a pass.  He's earned the right to play in at least one more exhibition.
In the East, the biggest question mark has to be Dwyane Wade.  Although still a spectacular player and probably also headed to the Hall of Fame, but he has missed significant time and is having his worst season statistically(18.4 ppg) since his rookie campaign.  If the voting ended today, the player formerly known as "Flash" would be playing in his 10th All Star Game.
The fans get to vote the starters, so why quibble.  But the real competition comes in who will make up the reserves as we already can begin to debate who will be left off and put on the final roster as determined by the head coaches.
In the East, John Wall is having an All Star caliber year(19.6 ppg, 9.1 ast, 2.3 stl), but ranks just 4th in backcourt voting, behind Wade, Irving, and the injured Derrick Rose.
The biggest snubs have to be out West as LaMarcus Aldridge, Kevin Love, Damian Lillard, and James Harden all have some ground to make up on voted in potential All Stars like Jeremy Lin, Steve Nash, and Pau Gasol.
Four time MVP Lebron James is the overall leader with 609,336 votes, followed by Kevin Durant(607,407), Kobe Bryant(501,215), Paul George(489,335), and Carmelo Anthony(424,211).
Never fear, it's only the 1st ballot, as voting remains open until January 20th.  Check out the Top 10 in both backcourt and frontcourt voting for both conferences:
Eastern Conference
Frontcourt
1. LeBron James (Mia) 609,336
2. Paul George (Ind) 489,335
3. Carmelo Anthony (NYK) 424,211
4. Roy Hibbert (Ind) 208,369
5. Chris Bosh (Mia) 156,364
6. Kevin Garnett (BKN) 102,825
7. Joakim Noah (Chi) 75,229
8. Jeff Green (Bos) 55,912
9. Luol Deng (Chi) 54,340
10. Tyson Chandler (NYK) 51,738
Backcourt
1. Dwyane Wade (Mia) 396,279
2. Kyrie Irving (Cle) 365,712
3. Derrick Rose (Chi) 272,410
4. John Wall (Was) 124,851
5. Ray Allen (Mia) 99,464
6. Rajon Rondo (Bos) 80,889
7. Deron Williams (BKN) 44,282
8. George Hill (Ind) 42,536
9. Evan Turner (Phi) 33,605
10. Mario Chalmers (Mia) 32,996
Western Conference
Frontcourt:
1. Kevin Durant (OKC) 607,407
2. Dwight Howard (Hou) 295,120
3. Blake Griffin (LAC) 292,925
4. Kevin Love (Min) 275,506
5. Tim Duncan (SA) 217,271
6. Anthony Davis (NO) 149,579
7. Pau Gasol (LAL) 133,199
8. LaMarcus Aldridge (Por) 132,818
9. Andre Iguodala (GS) 109,745
10. Dirk Nowitzki (Dal) 89,093
Backcourt
1. Kobe Bryant (LAL) 501,215
2. Chris Paul (LAC) 393,313
3. Stephen Curry (GS) 327,449
4. Jeremy Lin (Hou) 240,404
5. James Harden (Hou) 198,667
6. Russell Westbrook (OKC) 149,065
7. Tony Parker (SA) 112,423
8. Ricky Rubio (Min) 63,096
9. Steve Nash (LAL) 60,782
10. Damian Lillard (Por) 55,847
Allen Moll has been a lifelong NBA and NCAA College Basketball fan who watches and studies games religiously, and coaches youth basketball in his native Lehigh Valley region of Pennsylvania. Allen has also provided content to Bleacherreport.com, Upperdeckblog.com, Cleveland.com, CSN Philly.com, Buckets Magazine, in addition to being a tenured NBA and NCAA columnist for TheHoopDoctors.com.