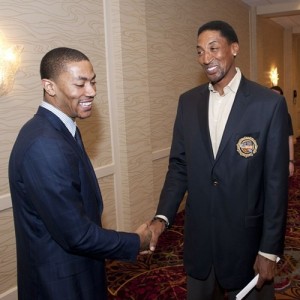 Scottie Pippen believes in Derrick Rose.
The point guard's decision to sit out all of 2012-13 wasn't popular. Or even close to accepted. Most understood why Rose didn't suit up for the Chicago Bulls, but many of them didn't respect it.
A majority of Rose's biggest critics have been silenced after the floor general exploded onto the scene during the preseason. Rose averaged over 20 points and notched five assists while shooting 44 percent from deep through seven exhibition games, each of which the Bulls won.
Optimism abounded heading into the regular season, as Rose wasn't projected to just be Rose, but an even better version of the point guard prior to his ACL injury.
Pippen, a former Bull, even joined the hype train, saying that he expects Rose to have an "MVP-type" season, according to Bulls.com's Adam Fluck:
"I've seen the Derrick of old, really," Pippen said when asked for his assessment of Rose. "I think he's come back a lot stronger physically and mentally. He's also better off in terms of understanding what he has to do moving forward. A big part of that is focusing on taking care of his body day in and day out. He looked great in the preseason—his timing and his rhythm have come full circle.

"I expect this to be an MVP-type of year for Derrick because I think he has a bit of a chip on his shoulder after missing a whole season and dealing with everything," Pippen added. "He wants to prove that his judgment was the right one. And I don't think anyone can disagree with him at this point."
Though it's still early, Rose has been every bit as explosive and effective as he claims to be. That is, if we don't include the Bulls' season-opening loss to the Miami Heat.
In 34 minutes of action, Rose faced various combinations of double teams, finishing with 12 points on 4-of-15 shooting, including a 1-of-7 showing from deep. He also dropped just four assists while coughing the ball up five times.
Quite simply, he looked rusty. Or nervous. Or like he wasn't trying to take on too much, too soon. Take your pick there. It doesn't matter anyway. One game doesn't mean anything for Rose. At most, Chicago's loss to Miami was a sign of how far the Bulls have to come as a team, not an indictment on Rose's path back to prominence.
Inevitably, Rose is going to be the consistently dominant force we saw in 2011-12 and during the preseason. It's going to happen. Can he prove himself an MVP? Doubtful. Provided he doesn't fall off the face of the earth, I'm not sure how the award doesn't go to LeBron James for a third-year running. And if it goes to someone else, I don't see it being Rose. Chicago won 45 games without him last season and unless the rest of his team experiences a drop off in talent or health, that will be held against him.
But an MVP-type year is well within the realm of possibility. If he can sustain the type of production from the preseason, matching his career averages of 21 points and 6.8 assists per night shouldn't be a problem.
"We have a team on the court that has been tested," noted Pippen, per Fluck. "They've been together and they've been challenged. Now, they're at the point where it's time to go to work, tighten things up, and take it to another level.
Reaching the next level dictates Rose return to his former self, something that, despite the loss to Miami, seems like a foregone conclusion.
Dan Favale is a firm believer in the three-pointer as well as the notion that defense doesn't always win championships. His musings can be found at Bleacherreport.com in addition to TheHoopDoctors.com. Follow @danfavale on Twitter for his latest posts and all things NBA.