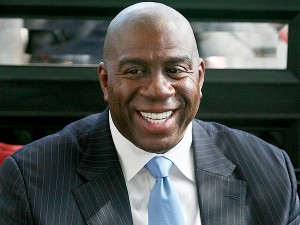 With Earvin "Magic" Johnson making more headlines in his post-basketball career, this time for combating the dropout rate among high school students, it is a testament to his successes as a philanthropist, activist, and businessman he's become. Starting his professional career as a bright-eyed, big-smile kid from Lansing, Michigan, few could have pictured the impact Johnson would have on the world after his basketball career. As a player, he led the Spartans to the NCAA title—besting Larry Bird in one of the greatest college spectacles of all-time. He won 3 MVP's and led the Los Angeles Lakers to 5 NBA championships, including 2 back-to-back. His basketball exploits are so legendary they've become a sort of lore of a simpler, grittier NBA, so let's take a minute to salute Magic Johnson's top 10 accomplishments after basketball.
10. For years, Johnson has been a brilliant NBA commentator and analyst for TNT and ESPN, demonstrating his extensive knowledge of the game from his experiences as an NBA player, head coach, executive, and owner.
9. Along with Bill Russell, Dwayne Wade, LeBron James and WNBA champion (2011) Maya Moore, Johnson played an exhibition game with current U.S. President Barack Obama, in celebration of Obama's 49th birthday.
8. Whether or not it's really an accomplishment, getting a star on the Hollywood Walk of Fame really means you've "made it" in Hollywood. Superstar and 5-time champion Magic Johnson got his star on June 21st, 2001.
7. In a desire to play basketball again after his retirement, Magic Johnson founded the Magic Johnson All-Stars, a mix of college and professional basketball players that travel around the world playing exhibition games. Members of his team include former NBA head coach Reggie Theus. When Johnson came back from retirement a final time in 1996, his All-Stars had an astounding 55-0 record.
Magic's All-Stars v China:
6. In June of 1994, Johnson became a minority owner of the Los Angeles Lakers, which only cost him a little more than $10 million.
5. In 1985, Johnson created "A Midsummer Night's Magic," an annual charity event featuring a black tie dinner and a celebrity basketball game with the proceeds going to the United Negro College Fund. The event ran for twenty years and included such NBA greats as Magic Johnson, Michael Jordan, Reggie Miller, Isiah Thomas, and Dominique Wilkins.
4. Now, Magic is in the news again, once again changing the lives of the people around him for the better by creating a network of foundations and businesses to help kids bridge the gap between high school and college. Johnson has teamed up with EdisonLearning to provide 17 Magic Johnson Bridgescape Academies in 6 states. When commenting on the goal of his new endeavor to ESPN's Scoop Jackson, Johnson said, "People need tools to help them and I'm trying to give them the tools and not just making the speeches."
Magic moved by student's story:
3. Just last year, Johnson joined with Guggenheim Partners and Stan Kasten to purchase the Los Angeles Dodgers, who were in a state of crisis. Now, the Dodgers are 91-66, 1st in the NL West, and heading into the playoffs on a mission.
2. Johnson owns and manages Magic Johnson Enterprises—which includes AMC Magic Johnson Theaters, Burger King, 24-Hour Fitness, and Best Buy—, a company now worth in excess of $700 million.
1. Since retiring from the NBA on November 7th, 1991 after contracting the HIV virus, Johnson nobly became a spokesman for HIV and AIDS prevention and a promoter of safe sex, on which he has penned 2 books, Unsafe Sex in the Age of AIDS and What You Can Do to Avoid AIDS. The president, H.W. Bush, called Magic a "hero." Created the Magic Johnson Foundation to fund his charitable goals towards the prevention of HIV and AIDS. He's also been a speaker on the subject for Congress, the United Nations, and the World's AIDS Days Conference.
His first retirement press conference: