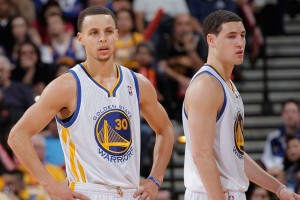 Gary Payton better know best.
It's a turn of phrase I never thought I'd write. Well actually, that's a lie. I'm not saying I never thought I'd agree with Payton. Smart money says we would agree on a lot of things, like his perimeter defense. That was astounding.
Truthfully, it's just a phrase I never thought I'd have to write. Six years removed from the NBA, why would I have to? He wouldn't be news until he made the Hall of Fame. Oh that's right…
Payton is preparing for a Hall of Fame induction so he's gotten quite a bit of press recently. Most have been up in arms about him saying John Stockton was the most difficult player he ever had to guard. Not Michael Jordan. Or Chris Dudley (kidding). But Stockton.
Me, though? I'm more enthralled by his optimistic approach to the Golden State Warriors. According to Kurt Heilin of NBC Sports' ProBasketballTalk, Payton told NBA.com's Scott Howard-Cooper that the Warriors could win the Western Conference this year:
"I think they're going to be there," Payton said. "I think they have a good chance of going. Picking up Andre (Igoudala), that was a good pickup for them. I think if (Andrew) Bogut plays well, they're going to have a great chance. I just really do believe that. And I think Mark Jackson's doing a great job down there. I'm really proud of my city. That's why I mention it. People always think about our city as being the crime city. But they don't understand. We've got a lot of good people coming out of there doing great things in athletics and doing a lot of things that's positive. We want these kids to understand that they can do the same thing and come out and just keep our generation going that's coming out of that area."
Hell yes. Call me crazy, naive or downright stupid. Call me what ever you like—except a homer; I hail from New York not Oakland. I agree with him. Like I really, really, really agree with him.
Even if Andrew Bogut can't stay healthy, I feel good about the Warriors. Andre Iguodala is an underrated two-way machine, David Lee can slip in and play the 5 at a moment's notice, Harrison Barnes is a star in the making and together, Stephen Curry and Klay Thompson are a top-three backcourt.
What's not to like? This team can shoot, run, shoot, defend and shoot. Did I mention shoot? Because they can shoot. Man alive can they shoot, specifically Curry, who knocked down a higher percentage of his three-pointers last season than he did his field goals overall.
Predicting that they'll come out of the West is a bit audacious, of course. Payton didn't come right out and say it, he just tiptoed around it. He couldn't say it verbatim. Not when the San Antonio Spurs, Oklahoma City Thunder and newly retooled Los Angeles Clippers still inhabit the same conference.
I personally would be lying if I said I didn't like their chances, though. Roughly one month ago, I wrestled with picking them to win the Pacific Division. Somewhat sheepishly, I went with the Clippers knowing very well the Warriors could render me a fool. At the time I just figured the Clippers to be a better regular season team than Golden State. I still do.
Come playoff time, however, we know what the Warriors can do. They were too much for the Denver Nuggets last year and the Spurs emerged from the second round anything but unscathed. Add Iggy and another year's worth of experience under their collective belt, and you have a title contender. A legitimate title contender.
That in mind, feel free to come join me and Mr. Payton on the increasingly crowded Warriors bandwagon.
Dan Favale is a firm believer in the three-pointer as well as the notion that defense doesn't always win championships. His musings can be found at Bleacherreport.com in addition to TheHoopDoctors.com. Follow @danfavale on Twitter for his latest posts and all things NBA.