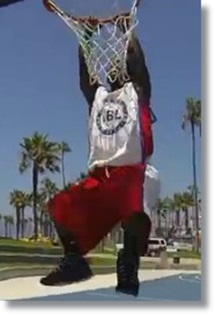 In the game of basketball, or more specifically streetball, the most important attribute to have on the blacktop is some insane verticals to wow the crowd with some rim wrecking dunks.
But when you are barely 4'5, like Venice Basketball League veteran Jamani "Mani Love" Swanson, one must rely on quickness and basketball IQ to get the better of his much taller counterparts.
But just because he's small in stature doesn't mean he's a liability on the court, as he has already beaten some of the world's most well known athletes in a game of one-on-one like NFL superstar Terrell Owens and more recently actor Jaime Foxx, in addition to lighting it up on the outdoor courts in Cali.
There is a recent video going viral around the web of Mani supposedly showing off an unbelievable 75 inch vertical leap and dunking on a full size 10 foot rim, which almost seems impossible, at least without some assistance.
That's why I'm calling shenanigans on the video as with the "first person" type camera angle shows Fresh taking off, dunking, then slapping the backboard, we cannot see him below the waste, where he probably received a boost.
None-the-less, real or not, watching Mani hoop it up against full size ballers is always entertaining and is inspirational to those of us that are vertically challenged and love the game of basketball……..
4'5 Mani Love Dunks On 10 Foot Rim:
Mani Love Summer Highlights In the VBL:
Allen Moll has been a lifelong NBA and NCAA College Basketball fan who watches and studies games religiously, and coaches youth basketball in his native Lehigh Valley region of Pennsylvania. Allen has also provided content to Bleacherreport.com, Upperdeckblog.com, Cleveland.com, CSN Philly.com, Buckets Magazine, in addition to being a tenured NBA and NCAA columnist for TheHoopDoctors.com.