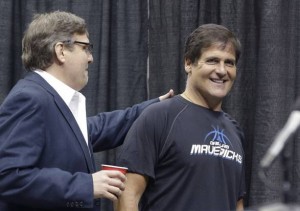 Realizing the title may be a bit alarming for those thinking the team is infringing on players' rights and freedoms, let me clarify. NBA teams are only using the tracking devices on jersey's worn during team practices. The player movement information is used by teams for training purposes, to get a better understanding of players movements and therefore maximize training results, and minimize injuries.
The Dallas Mavericks owner Mark Cuban this week spoke about his team being one of eight teams beginning to use this new technology with his players:
We just want to be able to get smarter about our players and how to train them and how to put them in a position to succeed," said Mavs owner Mark Cuban. "So that's just one component of a lot of different things that we're doing."

Athletes wear a cell-phone sized device on the inside of their jerseys between their shoulders, and it records their every movement in all directions as well as their heart rate. This gives coaches what Catapult's Gary McCoy describes as a "dashboard" for players' bodies. (via)
Although the NBA prohibits the use of any such GPS enabled devices during actual regular season or post-season games, there is nothing in their policies that would prohibit their use in summer league or pre-season games. Apparently the San Antonio Spurs training staff have already used the devices in Summer League contests, and the Dallas Mavericks are considering their use in pre-season this year.
It's amazing how technology is helping professional athletes train more efficiently to maximize results. What's next? What are your thoughts on this technology, are we taking it too far?