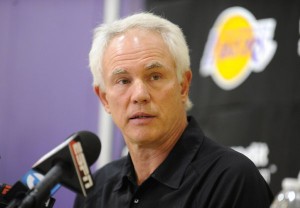 Mitch Kupchak sure knows how to kill a party.
While Jim Buss is predicting that Kobe Bryant will be ready to go in time for the preseason, Kupchak isn't ready to make such a pledge. Really, he's not prepared to make any sort of pledge.
Speaking with reporters for the first time since Dwight Howard spurned the Los Angeles Lakers for the Houston Rockets, Kupchak offered no smokescreens or words of encouragement on Kobe's immediate future, according to the Los Angeles Times' Mike Bresnahan:
"Obviously, we're all hopeful and we all know Kobe. When you guess on Kobe, he always tries to prove you wrong," Kupchak said. "The reality is he's doing what he should be doing. He's making progress probably weekly.

"Does that mean five months is possible or it's really going to be eight or nine or 10? We just don't know. When he gets back in September, we'll take another look at him, but he hasn't been on a basketball court. It's really premature to try to predict other than try to be optimistic that he'll be ready for opening night or the 15th of November or the 1st of December or the 15th of December."
What a kill-joy. The rest of us are busy believing that the Black Mamba isn't human, and can return at will. Kupchak's sobering words are, quite frankly, killing our buzz, Nick Young's included.
In all seriousness, the man has a point. We like to think that Kobe can overcome anything, that he can return early and then play at an All-Star level, but we have to be realistic. That dictates we accept the facts. And the fact is that Kobe is pushing 35, not 25. Returning from injury, like that of a ruptured Achilles, is no easy task. Those who aren't the Mamba may even call it impossible.
It's all well and good to assume that he won't miss a beat, that this injury and subsequent rehabilitation is just another defender for him to overpower on his way to the basket. But it would behoove us to understand that the odds are stacked against him. The sooner we accept that he could, indeed, fail, the sooner we get a grip on reality.
Kupchak wasn't all unpleasantries, though. Kobe's health was a sensitive, uncertain subject, but he wasted no time in providing a much brighter outlook on the statuses of Steve Nash and Pau Gasol, both of whom spent most of last season battling injuries. Of course, it came at the expense of Kobe.
"I expect both those guys to participate in training camp," he said. "Kobe is obviously the wild card right now."
At least Gasol and Nash are healthy. So long as they're ready to go, the Lakers have two players who can try to keep the team's head above water until Kobe returns and/or begins to regain his form.
As for Kobe himself, however, the prognosis isn't that simple. Kupchak calls him a wildcard while Buss figures on him taking the floor tomorrow.
Which one will it be? We just don't know. And that's a part of the problem. We always know with the Mamba. Nothing is ever left to chance. Everything is written stone.
Everything accept what it is that comes next, that is.
Dan Favale is a firm believer in the three-pointer as well as the notion that defense doesn't always win championships. His musings can be found at Bleacherreport.com in addition to TheHoopDoctors.com. Follow @danfavale on Twitter for his latest posts and all things NBA.