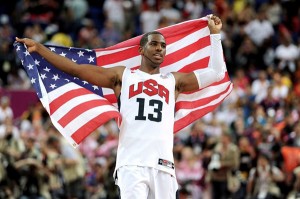 The popularity of playing in the Olympics among NBA players comes in waves. Around 2004, isn't wasn't perceived as cool to do it. The result: a bronze medal for the USA. Then, in 2008, everybody bought in. The same went for 2012.
However, you get the sense that this won't necessarily be the case in 2016. LeBron isn't already probably been ruled out and most of those guys from 2008 and 2012 will be much older. But you can probably count Chris Paul in. Previously, he said he wouldn't play in 2016, but he has apparently changed his mind. Believe it or not, he'll be 31 in 2016.
Chris Paul has changed his mind and is leaning toward playing in the 2016 Olympics.

The Los Angeles Clippers point guard, who was on the 2008 and 2012 gold medal teams, said he was leaning heavily toward bypassing the 2016 Games — until Duke's Mike Krzyzewski announced he was returning to coach the team.

"If it had been another coach than Coach K, I was prepared to be done," Paul told ESPN.com.
H/T: espn