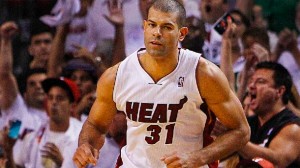 The NBA Finals are all tied up because of the Miami Heat's Big Three.
After a Game 3 performance that saw the Heat get pummeled by the San Antonio Spurs, LeBron James, Chris Bosh and Dwyane Wade entered Game 4 seeking revenge. And they got it, beating the Spurs 109-93.
Together, the Big Three combined for 85 of Miami's 109, completely taking over the game. Wade looked a lot more like the Dwyane Wade we've come to miss, scoring 32 points to go along with six rebounds, four assists and six steals on 14-of-25 shooting from the floor. LeBron notched 33 points, 11 rebounds, four assists, two steals and two blocks on 15-of-25 shooting of his own, and Bosh added 20 points, 13 rebounds, two blocks and two steals on 8-of-14 from the floor.
In the fourth quarter alone, South Beach's terrific triumvirate accounted for 25 of the Heat's 28 points, backing the Spurs up against a wall and forcing Gregg Popovich to essentially throw in the towel with a little over four minutes to play.
Their collective performance sparked a much-needed sense of optimism in Miami. Game 3 was a disaster, one that saw LeBron go 7-of-21 from the floor and the Heat submit to San Antonio's bevy of three-point shooters. Game 4 was a much different story. The Big Three played like the Big Three.
"Tonight was a Big 3 night. It just was," Heat reserve forward Shane Battier told Jeff Zillgitt of USA TODAY Sports. "We all knew it on the bench. It was their night."
It most certainly was. Only 24 points were scored by players not named LeBron, Wade and Bosh. Toss in Ray Allen's 14 points and only 10 points were scored by the rest of the team. In fact, only seven different players scored for Miami. Normally, that would be a recipe for disaster. Just not in Game 4.
LeBron and Wade (Bosh too) took over. Game 3 was in the past and they both came out firing, playing like they were always expected to play. They knew how much a win meant. Only eight teams in NBA history have ever come back from 3-1 deficit to win a best-of-seven series. None of those teams ever did so in the finals.
"It was on our shoulders, obviously," LeBron said. "We had to figure out how to will a game for us, to play at the highest level. When all three of us are clicking at the same time, we're a very tough team to beat."
More like impossible to beat.
What team is supposed to beat the Heat when both LeBron and Wade score 30-plus? And who's supposed to beat them when the Big Three score 85 points combined? The Spurs?
No one, not even the Spurs, can combat a performance like the one Miami's core put forth in Game 4, hence why the Heat are so damn dangerous. When LeBron and Wade take over like they did, and Bosh hits the open looks opposing defenses are giving while they attempt to guard against the rim attacks of the former two, the Heat cannot be beat.
And if LeBron and crew keep this up, they won't be beat. Not by the Spurs, who are being brought down by a vanishing Manu Ginobili and an injured Tony Parker who mustered up a strong first half showing (15 points, six assists), but faded down the stretch courtesy of injuries (zero points, three assists in second half).
Finals bouts are a series of runs. Often times they come down to who can make the best adjustments. San Antonio is still tied with Miami and has one game left to play at home, but I'll be damned if they can make an adjustment that successfully stymies this version of the Heat.
"They knew they were going to play better, and they just made it happen," Battier said of the Big Three.
Two more performances like this, and they'll have made a second straight championship happen as well.
Dan Favale is a firm believer in the three-pointer as well as the notion that defense doesn't always win championships. His musings can be found at Bleacherreport.com in addition to TheHoopDoctors.com. Follow @danfavale on Twitter for his latest posts and all things NBA.