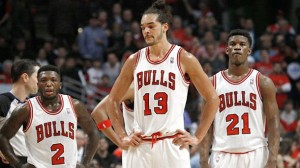 It's almost over, but not quite.
Now that the Miami Heat have eliminated the Chicago Bulls from the NBA playoffs, the Derrick Rose chatter can stop. Criticism can cease. The "will he or won't he" game desist. It's finally over.
Except it's not.
Chicago went down against Miami swinging. Down 22-4 early in the first quarter, the Bulls came storming back and maintained the lead for most of the game. Midway through the fourth quarter, the Heat took it back, and barely looked back.
And where was Rose? On the bench. Watching. A bystander. That's where he's been for over a year now—on the sidelines. Even after being cleared to play in March he was on the sidelines. Just watching. Now this.
No one expected anything from the Bulls without Rose, but they came to play. Knowing how tapered their expectations were without him (and Luol Deng and Kirk Hinrich), they should have no regrets. Nate Robinson, Joakim Noah, Jimmy Butler and Carlos Boozer played their asses off and their hearts out. All we can do is tip our hats to the effort they put forth against the Heat and all season.
But does Rose have any regrets? He was cleared to play and didn't. Would things have been different if he had?
Maybe, but probably not. And definitely not in Game 5. By that point, it was too late. The Bulls were down 3-1 and a comeback was less than unlikely. Had he elected to return, it would have been earlier in the series.
He didn't return, though. And the Bulls lost. Not because he didn't play, but because they were so unhealthy. That alone has the potential to breed resentment in the locker room.
Or not.
You won't find these Bulls criticizing Rose, even after a loss like this. From Joakim Noah to Tom Thibodeau to even Erik Spoelstra, no one pointed fingers at Rose.
Thibodeau on DRose: "It's too important a decision for him to rush. Until he's completely comfortable, we don't want him out there."

— K.C. Johnson (@KCJHoop) May 16, 2013
Thibodeau on Rose "If we were going to make a mistake we wanted to make a mistake on the side of caution. I think it was the smart decision"

— Jeff Zillgitt (@JeffZillgitt) May 16, 2013
Noah on Rose: "It was hard. As a player, you want him to come back. At the same time, you understand you've got to look at the big picture."

— Jeff Zillgitt (@JeffZillgitt) May 16, 2013
Heat coach Erik Spoelstra: "It's a shame. I think everybody would have liked to have seen both teams healthy."

— Jeff Zillgitt (@JeffZillgitt) May 16, 2013
Personally, it's difficult to understand why Rose didn't at least suit up in Games 3 and 4. He could have came out on the court for just a minute, and lit up the crowd, not unlike David Lee did for the Golden State Warriors.
At the same time, it's equally difficult to sit here and say he should've played, that he had to play. Torn ACLs are no joke. And Rose, and the Bulls, have their whole futures ahead of them. Was it worth jeopardizing to contend in a series you probably wouldn't have won anyway?
After watching what transpired and how everything went down, faulting Rose and the Bulls is futile. They weren't in good shape at all. Rose could've returned and they still wouldn't have been in good shape. Sans Deng and Hinrich, and watching Rose work his way back during the middle of the playoffs would have likely still spelt their doom.
Maybe they could have pushed it to six games; maybe to seven. But does that really matter? In a city like Chicago, it's championship or bust—except for this season. This was supposed to be a lost season. Rose was expected to return at some point, yet that wasn't going to be enough. That they made it as far as they did without him coming back at all is beyond impressive.
Rose wouldn't have changed the outcome of this series. Not being thrown into the fray without warning or time to adjust to the pace of play. Scrimmages only do so much, after all.
Which isn't to say he shouldn't have played, or at least suited up. This situation was that confusing; that gut-wrenching.
Chicago's stance on the matter isn't, though. The Bulls were disappointed that Rose didn't play, but there doesn't appear to be any resentment being harbored. They're behind him.
Just like they've always been.
Dan Favale is a firm believer in the three-pointer as well as the notion that defense doesn't always win championships. His musings can be found at Bleacherreport.com in addition to TheHoopDoctors.com. Follow @danfavale on Twitter for his latest posts and all things NBA.