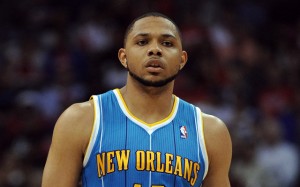 Max contracts usually solve everything, just not in the case of Eric Gordon.
After receiving a four-year deal worth $58 million from the New Orleans Hornets this past summer, Gordon has pouted, been injured and, most recently, engaged in a shouting match with head coach Monty Williams. Oh, and he's essentially been put back on the future chopping block as well (via John Reid of The Times Picayune):
A majority of fans in New Orleans have not forgotten the comments Gordon made last summer after he became a restricted free agent and agreed to a four-year, $58 million offer sheet with the Suns, which the Hornets matched even though Gordon said his "heart was in Phoenix."

The Hornets were unable to pull off a trade involving Gordon before the February trade deadline, but the franchise is still likely to remain open to trading him after this season ends, according to sources Saturday.
While the latest could just epitomize smoke blowing or be an overreaction to the shouting incident, expect the Hornets to attempt to move the oft-injured combo guard over the offseason.
Gordon and Williams have admitted their altercation came in the heat of the moment, but this is more about the former's actual value to the team and less about his (supposed) attitude problem.

Gordon is averaging 16.5 points per game, but shooting just 40.2 percent from the floor and 33.1 percent from deep. His PER stands at a mediocre 15.2 and the Hornets are an unimpressive plus-2.5 per 100 possessions with him on the floor. That's not exactly the type of production you envision from a player New Orleans will be paying more than $14 million annually after this season. Don't be surprised when the Hornets begin shopping him once again.
Will they be successful in finding him a new home? That's an entirely different question. And, quite frankly, you're permitted to be surprised if they do.
Not only is his contract monstrous, but his well-documented transgressions are hardly a commercial in Gordon's favor. Toss in that he has yet to live up to the very contract we discussed, and teams could see a potential bust in the making.
Of course, that wouldn't scare away everyone, especially those who are desperate. Gordon is the type of player I could definitely see Mark Cuban chasing upon season's end. But he's also one I don't see going anywhere.
Perhaps by next February's trade deadline we'll know more. Maybe Gordon will have raised his stock a bit and made it easier to move him, or he and the organization will have reached an understanding. Perhaps this union can still be salvaged.
Hopefully, it can. Because Gordon isn't going anywhere any time soon.
Dan Favale is a firm believer in the three-pointer as well as the notion that defense doesn't always win championships. His musings can be found at Bleacherreport.com in addition to TheHoopDoctors.com. Follow @danfavale on Twitter for his latest posts and all things NBA.