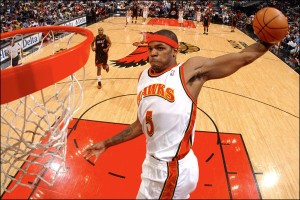 Josh Smith and Andrew Bynum were almost teammates.
According to John Mitchell of the Philadelphia Inquirer, the Atlanta Hawks nearly traded Smith to the Philadelphia 76ers before the NBA's trade deadline:
Sources from both teams confirmed that the Sixers and the Hawks were close to a deal that would have sent Sixers Evan Turner and Spencer Hawes to the Hawks for forward Josh Smith. The trade deadline passed last month with no deal.

Smith, who will be an unrestricted free agent this summer, said he tried to ignore the trade talk.

"I really didn't pay much attention to everything that was in the media," Smith said. "I knew there were discussions, but as a player you can't listen to all that stuff. I just want to do whatever I can for the Atlanta Hawks to help us in the playoffs."
Though it would have been difficult for Smith to make the jump from a playoff team to a lottery-bound faction, Philly's future sure would have seemed a whole lot brighter with J-Smoove in the fold.
Watching Smith play alongside the drive-and-kick stylings of Jrue Holiday and even Thaddeus Young had the potential to be a thing of beauty. Potentially seeing both him and Bynum run together next season would have been beyond compelling as well.
Acquiring Smith also may have decreased the urgency behind the Sixers' plans for Bynum. Not because they're trying to rush him back this season (they're clearly not), but if they genuinely didn't want to invest big money in those deteriorating knees of his, they wouldn't have had to. Philadelphia still might show Bynum the door this summer, but it would make any decision the team makes on his future much easier knowing there was a star in hand to build around no matter what.
Naturally, this would have depended upon Smith's willingness to remain in the City of Brotherly Love. He could have walked himself over the summer. Philadelphia is a far more appealing market than Atlanta, though, and the Sixers' history doesn't read like the mediocre tale the Hawks' does.
Speaking of Atlanta, this was easily the best deal out there, should they have decided to trade Smith. The Milwaukee Bucks were attempting to parlay marginal role players into a superstar, the Brooklyn Nets were attempting to bait them with an overpaid Kris Humphries and other offers were just as unappealing.
Landing both Spencer Hawes and Evan Turner, though, would have gave the Hawks a puncher's chance at remaining in the postseason hunt. Hawes would have allowed Al Horford to shift back to the power forward slot and Evan Turner is one of the most versatile players in the game. His perimeter defense and impressive showing on the glass would have filled much of the void Smith's departure left. Admittedly, Turner isn't the best of shooters, but he is connecting on a career-high 36.1 percent of his three-point attempts.
Even so, I still think the Hawks made the right decision by holding onto Smith. Though this would have been an adequate package to receive in return, it is one that will also probably still be available this summer. And they might be able to get an even better one then, too.
What I will say is that this deal would have at least given us something to discuss. This was, by far, one of the most uneventful (okay, downright boring) trade seasons in NBA history. And this latest batch of rumors that never were is only a tease, leaving us to wonder what could have been.
Truthfully, I'm sure the struggling Sixers are now wondering the exact same thing as well.
Dan Favale is a firm believer in the three-pointer as well as the notion that defense doesn't always win championships. His musings can be found at Bleacherreport.com in addition to TheHoopDoctors.com. Follow @danfavale on Twitter for his latest posts and all things NBA.