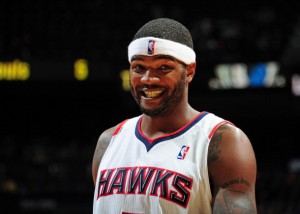 Let me take this opportunity to welcome you inside one month of the NBA's trade deadline, where the visibly absurd threatens to become truth.
Speaking of the visibly absurd, the Atlanta Hawks have never appeared more likely to deal Josh Smith than they do now. And no, that's not the insane part.
What's crazy is the fact that the Phoenix Suns are believed to be making a play for his services.
Per Alex Kennedy of HOOPSWORLD, the Suns will look to assemble a trade package that they hope will ultimately pry Smith out of the Hawks' hands:
The Suns are very interested in Smith and have had exploratory talks with the Atlanta Hawks about the 27-year-old forward. Phoenix views Smith as a franchise player who can be one of the cornerstones of the team for years to come. The Suns have been searching for a face of the franchise since Steve Nash's departure last summer, and Smith could be exactly that. If the Hawks decide it's time to part ways with Smith, the Suns will be one of the teams on the phone.

Phoenix has attractive assets, particularly Marcin Gortat, who could play alongside Al Horford and give the Hawks one of the best frontcourts in the Eastern Conference. They also have Jared Dudley and Michael Beasley as well as the expiring contracts of Wes Johnson, Shannon Brown (whose 2013-14 salary is non-guaranteed), Sebastian Telfair and Jermaine O'Neal. Phoenix also has several first-round picks – their own pick and two additional first-round picks that they acquired in the Nash trade with the Los Angeles Lakers and the Johnson trade with the Minnesota Timberwolves. Luis Scola could also be involved in the trade, but only if the deal is a sign-and-trade since he can't be traded until July 1 due to the fact that he was signed by the Suns after being amnestied by the Houston Rockets.
Phoenix is desperate to acquire a superstar. As Kennedy notes, they attempted to acquire Rudy Gay, but to no avail. Its pursuit of Smith, a superstar in his own right, someone who can be the face of the franchise, then makes sense.
Or does it?
For one, I'm not crazy about what the Suns offer Atlanta. Marcin Gortat and a couple first-rounders would be a great start, but as for fillers like Jared Dudley and Michael Beasley, I'm less than sold. Not only are both one-dimensional scorers, but their contracts are one of the more undesirable pacts out there. If Phoenix can find a third and/or fourth team to assume a bad contract or two while also helping the Hawks get more of what they need, then perhaps they'd have a shot.
But even then, does it make sense?
The Suns were already wary of their ability to afford Gay, why would Smith prove any different? Why can they all of a sudden afford to house a max-level player?
Better yet, why are they willing to take a chance on Smith?
I understood their pursuit of Gay (to an extent). Like Smith, he was a superstar they could build around. Unlike Smith, he wasn't an impending free agent. Phoenix had all of this season and next to convince him it was headed in the right direction before he entered free agency. And even then, Gay had a player option for the 2014-15 season worth nearly $20 million that he would have been hard-pressed to turn down.
Smith, though, is under no such lock and key. He will be an unrestricted free agent upon season's end and could spurn the Suns should he see fit.
Is this to say he definitely would?
Absolutely not. We know he fancies himself a max contract player, and if Phoenix is prepared to offer him a max deal, he could stick around. Or he could accept a max offer from another team that pays him a little less over four years instead of five. Or he could sign a one year deal with another team just to re-up for the max of the max the following summer.
Yes, to build a winning faction, you have to take risks, but this one presents too great a peril for the Suns to undertake. Smith holds no loyalty to them and if he leaves, they'll have traded away Gortat and a bevy of draft picks, among other assets, for essentially nothing.
And should he stay, there's no guarantee he revives what has become a docile franchise. Remember, the Hawks haven't made it out of the second round of the playoffs with Smith, and they never hesitated to spend to place talent around him (and Joe Johnson). What makes the Suns believe it's going to be different for them? What makes them think Smith will be enough to lure in other big names? What makes them think they'll be able to afford even him, let alone others?
My intent isn't to belittle the talents of Smith or the motive of Phoenix. He's an athletic fiend who can make a difference on both ends of the floor and the Suns' interest is understandable, but 1) he has the potential to become a very expensive rental for Phoenix and 2) I'm not sure he's a player a small market team should mortgage their future on.
If the Suns were in a bigger market or already had another star to complement Smith, like the Boston Celtics or Los Angeles Lakers do, then I'd be writing to the beat of a different drum. But they don't. Because they can't afford to.
Just like they can't afford to pursue Smith with the unrelenting vigor it's ultimately going to take to obtain him.
Dan Favale is a firm believer in the three-pointer as well as the notion that defense doesn't always win championships. His musings can be found at Bleacherreport.com in addition to TheHoopDoctors.com. Follow @danfavale on Twitter for his latest posts and all things NBA.