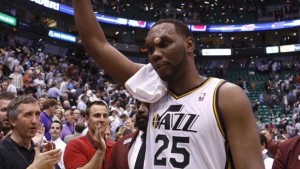 The Phoenix Suns seem hell-bent on making a splash leading into the NBA's trade deadline, and their latest exploits have brought them to Utah Jazz center Al Jefferson.
Per Paul Coro of The Arizona Republic, the Suns are interested in making a play for Jefferson and/or Gordon Hayward:
The Suns also have shown interest in a bigger splash for Utah's Al Jefferson or Gordon Hayward. Dudley could be a part of either of those deals with center Marcin Gortat likely needed to make one work for Jefferson, a 28-year-old power forward who makes $14 million and is averaging 17.4 points and 9.5 rebounds. Hayward, a 22-year-old swingman, is averaging 13.5 points in a reserve role.
It's hard to refute Phoenix's logic here. Marcin Gortat has been underwhelming now that the safety net that was Steve Nash is playing for the Los Angeles Lakers. He looks lost outside of pick-and-rolls on offense and he's been unable to develop the dominant chemistry with Goran Dragic that the Suns initially envisioned.
Defensively, he's been adequate. He's blocking 1.7 shots per game, but he's still not all that valuable in man-to-man situations. Simply put, he's not someone Phoenix can build around.
Jefferson is a different story. He's the type of big who can average 20 points and 10 rebounds a night when the offense is run through him and he's given extensive playing time. He's not known for his defense, but he can block some shots, and he's no stranger to operating outside the luxuries of a top-tier floor general. Playing alongside Dragic would likely be a treat for him.
But do the Suns have enough to make it happen?
Utah is going to trade either Jefferson or Paul Millsap, and the team prefers to part ways with the latter over the former. Does Phoenix really have enough to change the Jazz's mind?
In theory, yes. Though Gortat has struggled, he would still be a valuable glue guy off the bench behind Enes Kanter in Utah, and a package built around him and Jared Dudley would work financially. If the Suns toss in a first-round pick (or two) that would only sweeten pot.
Still, even then, I don't think the Jazz do it.
Jefferson is someone the Suns can build around, but he's also someone the Jazz can build around too. Finding capable big men is hard enough in the NBA; finding ones who can dominate offensively without a superior floor general is even more difficult. That's what Utah has in Jefferson.
Furthermore, while Gortat would be a good starting point, I continue to believe that Jared Dudley's value is overestimated. He's a strong three-point shooter and his defense isn't horrible, but he's also not the type of player you beg to pay for three more years after this season.
Plus, the Jazz really need a point guard and unless their interested in Kendall Marshall, I really don't see them jumping on a Gortat and Dudley proposal, even if it includes a first-rounder. Should be we begin talking about Paul Millsap, then that's a different story.
For now, we're not. We're talking about Jefferson, about Utah's preference to retain him and Phoenix's desire to acquire him.
A desire that will ultimately be trumped by the Jazz's "preference" and a lack of appeasing assets.
Dan Favale is a firm believer in the three-pointer as well as the notion that defense doesn't always win championships. His musings can be found at Bleacherreport.com in addition to TheHoopDoctors.com. Follow @danfavale on Twitter for his latest posts and all things NBA.