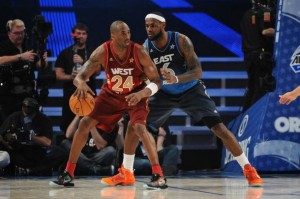 Last night, the 2013 NBA All-Star sarters were announced on TNT. Yes, this is a popularity contest, but even so, there aren't many surprises here. What's actually surprising is that Jeremy Lin wasn't voted a starter. Hey, it worked for Yao Ming.
The Los Angeles Lakers' Kobe Bryant (1,591,437) edged the Miami Heat's LeBron James (1,583,646) as this year's leading vote-getter in the 2013 NBA All-Star Balloting presented by Sprint, earning his record 15th consecutive All-Star nod. Bryant breaks a tie with Jerry West, Karl Malone and Shaquille O'Neal for the most consecutive NBA All-Star selections. A four-time Kia NBA All-Star MVP (2002, 2007, 2009 and 2011), Bryant holds the distinction as the youngest All-Star in NBA history (1998, when he was 19 years old). In last year's All-Star Game in Orlando, he passed Michael Jordan as the game's all-time scoring leader.

The 62nd NBA All-Star Game will be played at the Toyota Center in Houston on Sunday, Feb. 17, 2013 (8 p.m. ET), televised exclusively on TNT and broadcast exclusively on ESPN Radio in the U.S. The All-Star Game will reach fans in more than 200 countries and territories in more than 40 languages.

Bryant's partner at the guard position in the Western Conference starting lineup is the Los Angeles Clippers' Chris Paul (929,155). The West's starting frontcourt features the Oklahoma City Thunder's Kevin Durant (1,504,047), the reigning Kia NBA All-Star MVP, the Lakers' Dwight Howard (922,070), and the Clippers' Blake Griffin (863,832).

Joining James, a two-time Kia NBA All-Star MVP (2006, 2008), in the Eastern Conference frontcourt are the New York Knicks' Carmelo Anthony (1,460,950) and the Boston Celtics' Kevin Garnett (553,222), the 2003 Kia NBA All-Star MVP. The East guards are the Heat's Dwyane Wade (1,052,310), the 2010 Kia NBA All-Star MVP, and the Celtics' Rajon Rondo (924,180), who earns his first All-Star Game start. Garnett's selection, his 15th, ties him with Bryant and O'Neal for the second-most All-Star Game nods in league annals. Kareem Abdul-Jabbar was elected to 19 games.
H/T:  nba.com