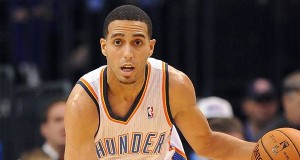 James Harden is off and running with the Houston Rockets, but there is a new elephant in the Oklahoma City Thunder's locker room in the form of Kevin Martin.
The high-scoring shooting guard came to the Thunder in what was, to say the least, a painstakingly difficult Harden trade. Oklahoma City was hard-pressed to relinquish its prized combo guard and Martin was viewed as a less than comparable consolation prize.
But he we are, more than one month later, the Thunder sit at 15-4 and Martin is a big part of the reason why. He's averaging 15.6 points on 46.3 percent shooting from the field. He's also connecting on 47.7 percent of his three-point attempts and 92.9 percent of his free throws.
To make matters even more intriguing, the Thunder are scoring at a rate 117.5 points per 100 possessions with him on the court, compared to the 106.5 mark with him on the pine.
In other words, Martin is an important part of what Oklahoma City is doing.
But for how much longer remains unknown.
Martin is an unrestricted free agent after this season and given that the Thunder were too cash-strapped to re-sign Harden, one has to wonder if they'll have the funds necessary to retain Martin as well.
Which is a quandary Darnell Mayberry of The Oklahoman acknowledges—when he was asked about Martin's future—Oklahoma City is about to face:
No. $11 million would be way too much in my opinion. Anything more than, say, $7 million a season and it's time to look elsewhere. That's not an indictment on Martin. It's more about where this team's payroll currently stands.
Martin is making just under $13 million and, as Mayberry notes, will likely have to take a substantial pay cut if he wishes to stay in Oklahoma City.
Unfortunately, don't expect a resolution to this conflict to be reached anytime soon. According to Michael Scotto of RealGM.com, the Thunder and Martin have not discussed his future with the team:
evin Martin and his agent have not discussed a contract extension with Oklahoma City Thunder management.

"We're not talking about that right now, we're just living in the moment," Martin told RealGM before the Thunder played the Nets in Brooklyn on Tuesday. "That's all this is about. They brought me here to be a great fit for these guys and everything's been positive thus far, so we want to keep that ball rolling."

Despite the lack of negotiations, Martin made it clear that returning to the Thunder is a strong possibility.

"I love it," said Martin. "I'm a Midwest guy and it's going to be an interesting summer for myself, because I never got a chance to really be a free agent and I'm going to be high in the shooting guard class, so hopefully everything works out here. We have a great thing right now and I'm just living in the moment."
On the surface, Martin is saying all the right things, and the fact that he enjoys playing alongside Kevin Durant and Russell Westbrook is a plus. But is he willing to take a 50-percent pay cut to remain with a team that would have him come off the bench when he could start for any number of other teams.
To call this situation complex would be a gross understatement. It's essentially Harden all over again, only to a lesser degree. Clearly, the Thunder are not going to be able to pay Martin a lucrative annual salary. The luxury tax penalties they would incur would be astronomical. And, quite frankly, if they weren't willing to stretch themselves financially for Harden, why would they do it for Martin?
They wouldn't, they can't and they won't.
Obviously, this is not to say that Martin is a goner. He has proved to be a vital cog in a championship-caliber machine and the Thunder would welcome his return. Yet just like they did with Harden, the Thunder will have to make the tough decision if it comes down to it.
If Martin is willing to sign at a steep discount, then the Thunder will jump at the opportunity to bring him back this summer. But if this situation shows any semblance of a headache, reveals that Martin is having any doubt, then Oklahoma City will have to cut ties.
Because the Thunder cannot afford to be financially frivolous. The market they play in combine with the profit they yield won't allow it.
Just ask James Harden.
Dan Favale is a firm believer in the three-pointer as well as the notion that defense doesn't always win championships. His musings can be found at Bleacherreport.com in addition to TheHoopDoctors.com. Follow @danfavale on Twitter for his latest posts and all things NBA.