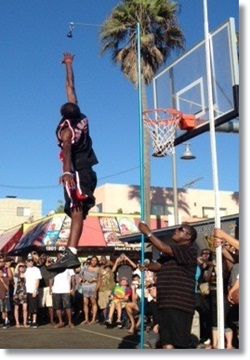 In the movie Rebound, Earl "The Goat" Manigault would routinely take his fellow high school student's lunch money, showing off his legendary leaping abilities by jumping so high that he could grab change off the top of the backboard.
While "The Goat's" unbelievable leaping abilities are for the most part embellished for Hollywood to create a mythical character, there officially has not been anyone on record that has been able to jump so high to reach the top of the backboard….until now.
The newest member of the Los Angeles Lakers, Dwight Howard, rather famously dunked on a 12 foot rim in the 2009 NBA Dunk Contest and claims to have touched the 13 foot mark equal to the top of a backboard as early as high school but did not catch it on film.
Recently at the Venice Basketball League Finals Weekend and HOF inductions, lesser known JUCO player Kirkpatrick McCauley set an all time official watermark for insane verticals by leaping and touching a bell set at 13 feet and change, making him the official record holder as the first player to be able to touch the top of the backboard.
McCauley's stock has been on the rise recently as a former HS hoops star hailing from Michigan that has earned his bones starring at the tiny Santa Monica College in California.  He's had a whirlwind Summer, playing a starring role in LA's famous Drew League, the Venice Beach League, and has played the Nike Real Run in Inglewood, California the past few years before being accepted by the NBA D-League to be potentially selected in their upcoming 2012 player draft.
He also was a stunt double in the new Chris Paul Jordan Brand commercial filmed in Cali last week.  So be on the lookout for Mr. McCauley a.k.a 'Stretch', coming to an arena near you…….
Check out Kirpatrick McCauley Touching 13 Feet:
Allen Moll has been a lifelong NBA and NCAA College Basketball fan who watches and studies games religiously, and coaches youth basketball in his native Lehigh Valley region of Pennsylvania.  Allen has also provided content to Bleacherreport.com, Upperdeckblog.com, Cleveland.com, CSN Philly.com, Buckets Magazine, in addition to being a tenured NBA and NCAA columnist for TheHoopDoctors.com.