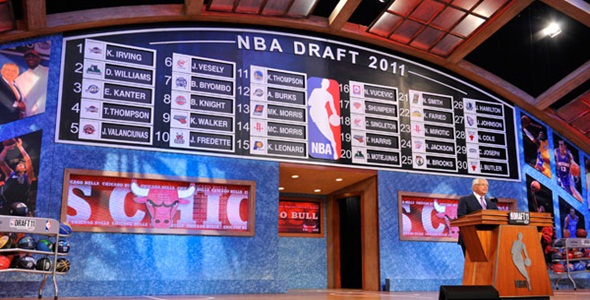 June 28, 2011 – Allen Moll
With the 2011 NBA Draft officially a wrap, all of the trades finalized, and teams' newest draft picks now being introduced to the home crowds, it's time to take a closer look as to which teams used the draft to their advantage and conversely which squads wasted the opportunity.
What we learned is that the Sacramento fan-base has already been Jimmered, new Houston Rocket forward Marcus Morris will be sending some fruit to his freshly separated twin Markieff in Phoenix, and whether or not Wizards forward Jan Vesely can actually play, he has a really hot girlfriend.
Outside of making a trade, squads have the chance to address team needs or select the proverbial "best player available" without giving anything back besides rookie salary. Hence, regardless of which players are taken, virtually every selection has to be viewed as an improvement for the simple fact teams are basically making an addition to the roster that they didn't have last season.
Here are my grades for every team in the 2011 NBA Draft:
Utah Jazz – A
#12 Alec Burks
New coach Ty Corbin should be very happy since the Jazz made out like bandits on draft day. While most of the pre-draft attention was focused on who the Cavaliers would be selecting with their 2 Lottery picks, Utah got both a potential star in big man Kantner and arguably the #1 SG prospect Burks. Kantner was undoubtedly high on everyone's board and now joins a formidable and physical frontcourt alongside Al Jefferson, Derrick Favors, and Paul Milsap. Drafting Enes also makes sense with center incumbent Mehmet Okur nursing major injury. Burks has big time potential at the 2 guard position and projects as a starter in time with some added weight and extended range on his jumper. He also is added insurance with Raja Bell aging and CJ Miles possibly leaving in free agency. Some may argue that they should have taken Knight as the PG of the future but Devin Harris is a speedy, 28 year old former All Star that provides veteran leadership to a young squad.
Washington Wizards – A-
#18 Chris Singleton
#34 Shelvin Mack
The Wizards are one of my biggest winners after doing a great job in adding quality talent to surround franchise cornerstone John Wall. Some rated Vesely as the top International player available and should develop nicely as a literal running mate to Wall on the fast break. He's a freakish athlete that excels in the open floor with a developing post game. Vesely has a bit of a nasty streak and tries to dunk everything in proximity of the rim, prompting many to tout him as the Euro Blake Griffin. Standing a legit 6'11, Jan provides instant match-up problems as he towers over opposing SF's and has the quickness to go around most PF's. Adding the fact that he appears to love the limelight and Washington may have a star in the making. The Knicks' passing on Singleton, the top rated defensive player in the draft, had to make coach Flip Saunders ecstatic as he now has a 6'10 defensive stopper that can guard any position 1 through 4. Mack is a bullish 6'4 guard that plays both ways, has unlimited 3 point range, can back-up the point, and is a proven winner by leading Butler to 2 straight NCAA Finals. We all know that the Wiz are a few years away from being true contenders but unlike Sacramento and New York are adding valuable pieces to a young and talented roster on both sides of the ball and may surprise Eastern Conference foes next season.
Sacramento Kings – A-
Traded for SG John Salmons
#35 Tyler Honeycutt
#60 Isaiah Thomas
Many aren't as high as I am with the Jimmer pick at #10. He serves two purposes. Number one, he will put butts in the seats and fire up a stagnant fanbase that has grown tired of losing and is facing a possible sale and an impending move to another city. It apparently is already working since I read that the Kings have already sold more season tickets since Thursday's draft than it had all of last season. The jury is out as to just how good of an NBA player Jimmer will be. Many think he's too small or lacks athleticism but he fits in well in Sac-town as he will allow former ROY Tyreke Evans to play more off of the ball, allowing his athleticism to shine. With the trade of Beno Udrih, Jimmer may get minutes right away as the starting PG at season's start. Teams apparently were put off by Honeycutt's slight frame since he was projected as a Top 15 pick by some experts. He really could be a hidden gem as he is an above average scorer and decent rebounder for his size. He's still really young(20) and could develop into a starting SF with seasoning. As the final selection on Thursday, Isaiah Thomas is anything but Mr Irrelevant. he is a hard working yet diminutive combo guard that has done everything he has been asked to during his long and successful career at Washington. He can play the point or slide to 2 guard when Tyreke is on the floor, using his chiseled frame to score from virtually anywhere on the court. Standing 5'8, Thomas's stock fell mainly because of his diminutive stature but anyone who has seen him play knows he has the skill-set to be a productive NBA player. On the downside, why would Sacramento want John Salmons back now that he has a bloated contract and is past his prime?
Cleveland Cavaliers – B+
#4 Tristan Thompson
Milan Macvan
Things didn't go quite as planned for the Cavs on draft night but management did an outstanding job of adding two plus level athletes that stand to be cornerstones of the franchise for potentially the next 10 years. It was a no brainer to take the top rated Irving at #1 as he can both provide an instant impact while developing into one of the league's best PG's. While the Irving/Williams debate at #1 was a good one, the Cavs made the right choice going with a player with a true position, compares to Chris Paul, and has the demeanor and personality to be a superstar one day. The Jazz threw them a curveball by selecting Kantner over Knight at #3 but although many think it's a reach, Thompson has one of the highest ceilings of any player in the draft. He is a freakish athlete, has a motor that doesn't quit, and has a game that will mesh instantly with the defensive oriented fan favorite Anderson Varejao. Thompson improved on a game-by-game basis in his lone season at Texas and can provide instant dividends as an above average rebounder and shot blocker from day one, matched with a unique and developing skill set that allows him to take his man off the dribble in addition to being a beast in the painted area. While I'm not sold on the Baron Davis in a mentor role, the good news is that Cleveland should be bad enough to add yet another quality pick in the 2012 Draft as well.
Houston Rockets – B+
# 20 Donatas Motiejunas
# 38 Chandler Parsons
Traded for Jonny Flynn
With Yao Ming possibly never making a full recovery from re-occuring injuries, the Rockets did a great job in selecting the best talent available. While he may not yet have a true position, Morris is undeniably one of the most skilled players in this year's draft with many considering him a Top 10 talent. Some GM's even compared his all around game to that of Paul Pierce. He can score from both inside and out, is an above average rebounder, and sees the floor as well as any frontcourt player in the class. Morris also brings a Philly bred swagger and toughness that bodes well in his future development. Because of a short wingspan, he will always be just average defensively. Getting a 7'0 PF in the 20's that has offensive skills that resemble Nowitzki or Bargnani can't be a bad thing, especially since the sharpshooting Lithuanian is all of 20 years old. Their are questions about his desire and intensity but the talent is there to be an offensive dynamo. Parsons has excellent size(6'10) and has tremendous all around skill set that allowed coach Donovan at Florida to utilize Chandler as a point forward at times against certain line-ups. He also has the reputation as a big shot maker as evidence of his numerous game-winning shots. Despite playing major minutes over 4 years in a top tier collegiate program, some feel he is better suited overseas because of a lack of toughness.
Charlotte Bobcats – B
#9 Kemba Walker
Traded for Corey Maggette
While some question moving up to select the an unproven rebounding and shot blocking demon in Biyombo, it was the right move considering just how weak the '11 Draft field is. Why not take a flyer on a guy that some project as the next Ben Wallace? The only downside is having to play 4 on 5 basketball on the offensive end as the Congolese big man has zero offensive abilities, similar to 4 time Defensive POY Ben Wallace. While I'm not sure how Walker fits with DJ Augustin already entrenched at PG, he's lightning quick with the basketball, should provide an immediate offensive spark, has a heart of a champion, and will only get better in time. While owner Michael Jordan has never been known as a great talent evaluator(Kwame Brown as exhibit A), he definitely cannot be accused of standing pat with a flat roster. Charlotte was in need of a shake-up after being mired in mediocrity and flushed with overpriced contracts. MJ apparently chose to trade his only assets in Gerald Wallace last season and Stephen Jackson on draft night to essentially rebuild the Bobcats from the ground up. They weren't going to win next year and now stand to be one of the front-runners for the #1 pick in a loaded draft next season.
Dallas Mavericks – B
Rights to Petteri Koponen('05 Draft)
I always hated when top notch teams like the old Chicago Bulls and LA Lakers selected throw-away players and essentially wasted draft picks on players that never had a chance of making the roster. Anyone remember Travis Knight? While I understand the notion of not adding anyone of substance is the norm for NBA Champions, why stand still while everyone else gets better around you? Whether the Mavs had kept their only pick which turned out to be Texas' Jordan Hamilton or they swapped him for the Blazers' disgruntled guard Fernandez, they come out winners. While Hamilton would have provided an excellent 2 guard in waiting behind Jason Terry, using him to get Rudy Fernandez, another outstanding 3 point shooter, is a great move as well. The Mavs proved that great shooting beats superior athleticism in the Finals and they only just got better in that department. Add in the return of Caron Butler from injury and Dallas may be even more potent next season.
Denver Broncos – B
#22 Kenneth Faried
#26 Jordan Hamilton
#56 Chukwudiebere Madaubum
While on the surface it appears like a downgrade by acquiring cagey veteran Andre Miller for Ray Felton, Miller has an expiring contract and still ranks among the top half of the league as a floor general, albeit played mostly below the rim. He steadies a mix-and-match roster in flux that may have a number of key departures in free agency and they still have the talented Ty Lawson. With Nene and Kenyon Martin both in contract limbo, nabbing Faried, widely considered the best rebounder in the draft, coach Karl gets a class person to go with an energetic, defensive minded board man whom many have compared to Dennis Rodman. Having Hamilton, the most NBA ready SG in the class, basically fall into their laps may be a godsend as JR Smith and Wilson Chandler also may fly the coup. He is a better than average, albeit streaky, long range shooter who is capable of scoring 20 on any night. He has has some issues with the Longhorn coaching staff, but coach Karl has delt with tempermental stars before(see Glenn Robinson, Iverson, Carmelo). Not much is known about their 2nd Round selection at #56 other than his nickname is "Chu-Chu." Imagine the game-night giveaways.
Phoenix Suns – B
Everyone knew that Phoenix was going to draft big or else take the Jimmer as the heir apparent to Steve Nash at PG. With Fredette long gone by their pick, selecting Kansas' other Morris twin Markieff to man the post could provide immediate dividends considering he has a defined position and does two things that almost no one currently does on the Suns roster………rebound and play defense. While Markieff may not have as high of a ceiling as other bigs like Tristan Thompson or Jonas Valanciunas, he could be a solid double-double contributor for the next decade up front. He brings toughness and a physicality that has sorely been missing in Phoenix and will make defenses play honest as he is an above average finisher at the rim. In addition to rebounding and defense, Morris has an above average low post game paired with a surprisingly good perimeter jumper considering he made more than 40% from behind the arc last season. Phoenix gets a high grade for both filling a definite team need while taking the best player available. Now all that has to be worked out is which lesser known twin on the roster gets major minutes up front? Markieff Morris or Robin Lopez?
Milwaukee Bucks – B-

Traded for SG Stephen Jackson, PG Beno Udrih, PG/SG Shaun Livingston
#19 Tobias Harris
#40 Jon Leuer
Getting rid of John Salmons' bad contract was paramount and in the process netted the Bucks some tremendous depth at PG and proven veteran scorer and leader Stephen Jackson. Netting Jackson, a former NBA Champion, over a younger SG in the draft like Klay Thompson or Alec Burks allows Milwaukee to compete for a Playoff spot now while the team develops behind franchise player Brandon Jennings running the point. Udrih is an underrated player(13 ppg and 5 ast w/Kings) that can play some at SG while Livingston has rebounded nicely from that horrific knee injury a few years back. Both provide insurance if Jennings goes down to injury again. As for their actual draft picks, Harris ranked high on everyone's board as a potential star at SF but has the size and is capable of playing both forward positions down the road. He persevered in a bad situation at Tennessee and ranked among the SEC leaders in scoring and rebounding as a freshman. Tobias has an already high basketball IQ and is reportedly an even better person, killing it in one-on-one interviews. Wisconsin's Leuer is an interesting player in that he is a big man(6'11) that can shoot. He has excellent mid range and 3 point abilities yet rebounds well and tested well at the Combine. He is a bit one dimensional in that he favors his right hand off the dribble but could prove valuable as a pick-and-roll/pop player. The only downside now for coach Skiles is dealing with not one, but now two potentially combustible players in Jennings and Jackson in his backcourt.
Toronto Raptors – B-
Taking the player with possibly the most upside in this year's draft despite possibly not getting the use of his services for a year or two was the right move for a organization in need of a franchise player. With the departure of Chris Bosh via free agency and former #1 pick Bargnani being a great scorer but not making his teammates better, Valanciunas hopefully will fill both roles upon his return to America……..whenever that is. With a potential NBA lockout looming, having Valanciunas play and develop overseas another year may not be a bad thing considering he can further advance his offensive game and add some weight to borderline a thin frame. Most rate him as the best International prospect with almost limitless ceiling considering his combination of size(6'11) and supreme athleticism, not to mention his immense 7'7 wingspan. Some argue that Toronto should have gone taken a PG(either Knight or Walker) but made the right choice considering the intangibles.
Boston Celtics – B-
#55 E'Twaun Moore
With a talented, yet aging roster already capable of being contenders, all the Celtics hoped to accomplish in a weak draft was select talented young players that can spell key minutes for the 30 year old + Pierce, Garnett, and Allen. They succeeded in doing just that in getting two of the Big 10's best players, collegiate teammates at that, that could play quality minutes off the bench next season. Both Johnson and Moore are 4 year star players at Purdue, leading their club in scoring, rebounding, and steals. Standing a lanky 6'10, Johnson may never be a star but earned Big Ten POY honors(over Sullinger), is a proven 20ppg scorer, above average rebounder, and elite level shot blocker. He has made great strides in his offensive game with a decent jump-shot that extends to the 3 point arc. There are concerns about a lack of bulk and a perceived too even tempered demeanor but surely Garnett, Big Baby, and Jermaine O'Neal will change the latter on the first day of practice. Moore is an undersized SG that quite simply can score the basketball. He projects well off the bench as a 6th man and can even fill in at the point in a crunch. He measured out better than expected at the Combine with a 6'9 wingspan and by all accounts is a very coach-able player.
Minnesota Timberwolves – B-
#43 Malcolm Lee
Traded for C Brad Miller
Getting hands down the 2nd best player in the draft has to be a good thing, right. Just don't ask that question to Philadelphia after last year. I have no doubt that despite being labeled a tweener by most experts, Williams will be a good NBA player. He's ferocious when attacking the rim, gets to the line an inordinate amount of trips, is an above average rebounder, and proved to be a game-changer in college. But with Beasley still on the roster, where will he play? Does drafting Williams mean that Beasley will again be on the move? The Wolves now have a logjam in the front-court and should trade Beasley for some veteran leadership. Snagging UCLA's Lee could prove valuable since although he played PG last season, he was a SG prior to that and projects as an above average defender in the Matt Barnes type role. They made a mistake trading #20 Motiejunas to Houston as he has tremendous potential on th offensive end. While as long as Kahn is in control of the team they seemingly are always a mess, it's always a good problem to have too many good players.
Miami Heat – B-
Coming off a surprising loss to the Mavericks in the NBA Finals, the Heat got exposed in a few areas. One of their deficiencies was undeniably point guard play. Bibby and Chalmers held down the fort for James, Wade, and Bosh but neither are true lead guards that excel at passing the rock. Enter Cole, who is an under the radar topflight PG prospect that doesn't yearn for the spotlight yet was a stat sheet stuffer, playing for the tiny Cleveland State. He made headlines during his senior season by compiling an impressive 40 point, 20 rebound, 9 assist game and was the only Division I player to average 20-5-5 for the season. With Miami surely to feel the pinch of the new collective bargaining agreement, Cole is an excellent fit on a roster in a financial crunch.
Detroit Pistons – C+
#33 Kyle Singler
#52 Vernon Macklin
Despite probably not targeting PG as an immediate need heading into the draft, Joe Dumars had to be ecstatic that Knight fell from as high as #3 on some boards all the way to the Pistons laps at #8. Although Knight's morbid/stone-faced reaction when called to the podium may not sit well with some fans, the once proud organization now gets a fresh new face of the franchise. With Knight, the Pistons are able to better determine which way to go forward as they have been stuck in rebuilding/retooling mode for several years. He improved every single day from that initial moment on campus at Kentucky last Summer, leading the Cats to a Final Four berth. He has some unbelievable athleticism, NBA ready 3 point prowess, paired with a developing floor game. For all of Knight's criticism in the true PG category, he average basically the same assist per game numbers to that of #1 pick Kyrie Irving. At age 19, he's far from a finished product and from what coach Calipari says, whatever scouts envision for Knight, he will one day be that player. Singler has a do-it-all type floor game and is a proven winner that fills up the stat sheet but is devoid of even average athleticism. He provides excellent insurance at SF in case Tayshawn Prince decides to leave via free agency. I'm not as high on Macklin as it was sort of a reach to grab him at #56 considering most had him going undrafted. He has imposing size(6'10) and has a ton of athleticism but barely averaged 5 rebounds as Florida's starting center and appeared unmotivated. Detroit could have used a dominating big man to pair with the out of position Greg Monroe but with Biyombo, Valanciunas, and Vesely already gone, getting the #2 rated PG is a great fallback option.
Golden State Warriors – C+
#38 Jeremy Tyler
#44 Charles Jenkins
New head coach Mark Jackson obviously had some input in grabbing highly touted SG prospect Thompson and two potential gems in the 2nd Round. Thompson draws immediate comparisons to Jackson's former Pacers teammate Reggie Miller as arguably the most NBA ready shooter in this year's class. Just like Reggie, Klay is a West Coast based, slight of frame sharpshooter with some baggage who may wind up being an All Star in due time. I like the selection of Tyler, an imposing 6'11 center who was a former top rated HS prospect but chose to improve overseas rather than go to college. Jenkins was also a high productive collegiate player, albeit at the smallish Hofstra. He was projected a tad higher by some mocks as one of the nation's more efficient scorers. The one obvious question is where and when Thompson will get minutes with Curry running the point and the oft rumored to be traded Monta Ellis entrenched at SG?
New Jersey Nets – C+
#31 Bojan Bogdanovic
#36 Jordan Williams
With not much in the way of stand-out players available in the lat 20's to mid 30's, New Jersey made the most of what was left for them. They may have snagged a diamond in the rough in Brooks, whom many called a sleeper and had going as high as the late Lottery. He finished 2nd in the nation in scoring, albeit on a bad Providence squad, and has excellent length and can score from anywhere on the court. Some have rather unfairly compared his style and form to that of Kobe but that's just not accurate. Brooks definitely needs to add weight and develop better court vision as he only averaged 2 assists per game in the Big East. Bogdanovic, acquired from the Heat is one of Europe's most potent shooters and scorers but lacks athleticism, may be a liability in defense, and is already 22 years old. As with all International players, we may not see him in the NBA for a while due to his European contract. Surprisingly, getting the bruising Williams early in the 2nd Round may be a blessing with leading rebounder Kris Humphries set to test free agent waters. Williams left Maryland after his sophomore season and is an outstanding rebounder and low post scorer, matched with a better than average mid range jumper. He leaves something to be desired athletically but has a fearless demeanor in the painted area. The Nets did little in the way of adding key pieces in an attempt to resign Deron Williams and with their impending move to Brooklyn following next season, they really only have center(Lopez) locked up going forward. Maybe another subpar season will help net them one of the prized prospects in the 2012 Draft, creating a buzz in their new home.
LA Lakers – C+
#46 Andrew Goudelock
#58 Ater Majok
Since there's usually not much left on the scrap heap at the middle or end of the 2nd Round, one has to give the Lakers a passing grade for plucking some potential gems that actually may have a chance to make the roster. Before all of the shake-up within the Top 10, Morris had potential to go as high as #14 to Houston as they were very high on the sophomore PG whom many consider the best pure passer in the class. That all changed when Houston took Marcus Morris with #14. Morris slid all the way to the 2nd Round because he is still raw but could be a starter after a few more seasons of development. He has great size, court vision, defends well, but has a major deficiency on the offensive end. Goudelock was one of the nation's best scorers but got little notice at the tiny College of Charleston. His long range shooting is on par with Fredette, maybe better, so he could play valuable minutes off of the end of new coach Mike Brown's bench. There's no way around stating that the Majok selection was a throw-away pick. He played a half season at UConn amid eligibility concerns before bolting for pro ball in Austrailia. Yes Austrailia. Not exactly a basketball hotbed but he is a shot-blocking specialist that will probably never get to don the Lakers yellow and purple.
Atlanta Hawks – C
With Atlanta in need of a true big to man the middle allowing All Star Al Horford to play his more natural PF position, the Hawks selected the enigmatic Keith Benson in the 2nd Round. Considering he was the best option remaining at #48, the Hawks get a passing grade but now have their hands full with a player that although he has NBA level talent has had issues with desire and had a tendency to dissappear in games. Benson has tremendous length, skill, and athleticism for the center position but badly needs to add weight and a mid range game. He projects as an above average rebounder, plus level shot blocker, and average low post scorer. Benson is definitely a project but a worthwhile selection late in Round 2. Surely fans would have rather management get aggressive in making a trade to move up, considering the Hawks seem stuck as a good but not great team, but this wasn't the draft class to acquire difference making talent.
Orlando Magic – C
#53 DeAndre Liggins
Considering that the Magic didn't have a 1st round selection, they did extremely well in getting two under the radar players that may wind up making the roster but did they make any progress towards helping surround Dwight Howard with an improved supporting cast? Probably not but both Harper and Liggins come from winning collegiate programs with both putting in great showing at the Combine. Harper has a game that will instantly remind Magic fans of former sharpshooter Rashard Lewis in his prime since although he has decent size for PF, he is one of the draft's best long range spot-up shooters. He has an adequate post game consisting of jump hooks and relies heavily on his above average athleticism but prefers to play on the perimeter. Liggins is one of the less heralded Kentucky players to get drafted in recent years but has a defined role as a long armed and staunch, lock-down defender that also shoots a high percentage from behind the arc. While Howard was probably hoping for a big splash via trade to convince him to stay in Orlando, Harper and Liggins may make a bigger impact than those named Arenas and Richardson by season's end.
Portland Trailblazers – C
#21 Nolan Smith
#51 John Diebler
#57 Tanguy Ngombo
Prior to the whole disaster where the Minnesota front office was exposed for not doing their homework in drafting Ngombo, sending him to Portland, and later finding out he's really 26 years old, I had the Blazers rated a tad higher. Seriously, how can two teams not know a player's age? They got a much younger PG in Felton in comparison to Andre Miller, who is in his prime years and can take even more pressure off of Brandon Roy and got in Smith an eventual replacement if things go from bad to worse with Roy's aching knees. Diebler is arguably the nation's best 3 point shooter from the Ohio State University, while Smith is a proven winner who can also play some minutes at the point. Tanguy Ngombo,…….please.
Indiana Pacers – C
Some are ecstatic the former IUPUI star George Hill is coming back to the state of Indiana. I'm not as high in the signing. The Pacers are a very young team with 8+ players with 3 years or less experience so signing Hill provides some veteran leadership to a young squad. With that being said, Hill is a very talented PG whom many feel could start on most teams. Why would the Pacers trade a draft pick(Leonard) that has as much potential as any for another PG? Didn't they just trade for the impressive Darren Collison prior to last season? I guess they are banking on Hill Playing some at SG since he has an above average offensive game but why not select another young player to grow alongside Collison, Hibbert, and Paul George?
San Antonio Spurs – C
#29 Corey Joseph
#42 David Bertans
#49 Adam Hanga
There is some good and some bad in the Spurs 2011 Draft. First off, they got an outstanding all around prospect in Leonard. Some teams rated him as high as #4 as he is one of the better rebounders and defensive players in this year's class. Possessing the biggest hands of any player, he uses an immense wingspan to defend any posintion from 1 through 4 on the floor. His offensive game consists almost exclusively on taking his man off the dribble and is not a great shooter at this point in his development but he plays harder than anyone and has tremendous potential in the mold of Andre Iguodala. He averaged a double-double and led San Diego State on a deep NCAA Tourney run. The only question is that with veteran Richard Jefferson entrenched at SF, where will Leonard's minutes come from? Although he was a reach to take in the 1st Round, Joseph will immediately take over the recently traded George Hill's minutes at the back-up point. While he's young and raw, Bertans is a lights out perimeter shooter that will remain in Europe for a few years to develop. Hanga is a 6'7 super athletic wing player with an impressive first step from Hungary that projects well as a SG/SF after a few seasons in Europe.
LA Clippers – C
#47 Travis Leslie
The Clippers got great value with their two 2nd Round picks but did little to improve the ball-club. Although Thompkins is one of the most NBA ready big men in the class, he was also one of the draft's biggest sliders as he was once considered a Top 10 pick prior to last season. After an unfortunate injury limited his play during the regular season, he showed up out of shape and overweight at the Combine, setting off warning bells across the league. In reality, he has always played a bit heavy and has an outstanding midrange jumper which bodes well in pick-and-roll play. He is an adequate rebounder and has above average low post skills but has had issues with conditioning and motivation. Leslie, also from Georgia, has freakish athletic ability and could be an NBA Dunk Contest participant as a rookie, assuming he makes the team. He has made some strides in his jump-shot but still has a ways to go. He may make the Clippers squad because of his outstanding play on the defensive end. Leslie has tremendous potential if you like a defensive specialist that is a highlight reel dunker. Just ask Demarcus Cousins from two seasons ago.
Memphis Grizzlies – C-
Memphis fans were probably hoping that the Grizzlies would try to move up in an attempt to grab a big man in case center Marc Gasol goes elsewhere in free agency. Instead they got an underachieving top flight HS prospect that should have stayed in school to further his development. Although Selby finished last season as the #1 ranked HS player, he was forced to miss the early part of his rookie campaign in Kansas due to eligibility concerns and played limited minutes as he never fully had a grasp on Bill Self's offensive philosophy. While he measured and tested well at the Combine, he saw his stock plummet after missing or blowing off several individual team meetings. At the latter stages of the 2nd Round, taking a flyer on a kid with talent isn't necessarily a bad thing, why go through the aggrevation with Mike Conley Jr still a young pup and progressing nicely?
Chicago Bulls – C-
#30 Jimmy Butler
The Bulls did very little to help surround Derrick Rose in this draft with some offensive support at least in the short term. Mirotic is an excellent offensive option but has already made it know that he won't be coming to the State for at least 3 seasons. Butler actually fits in well with the team's defensive minded, hard working style of play but figures to be way down on the depth charts with virtually their entire incumbent roster coming back. Chicago also had to play it close to the vest in concerns about the new collective bargaining agreement because of the high priced deals already in place for Boozer, Noah, and Deng. With Rose fresh off winning the MVP in only his 3rd season, he's due for a sizable raise.
Philadelphia 76ers – D+
#46 Lavoy Allen
One of my biggest losers on draft day had to be the 76ers. Despite filling a need of adding frontcourt help for Holiday, Turner, Williams, etc, they essentially drafted a player with the same skill set of Spencer Hawes, whom they just tendered an offer to. Not to disparage Vucevic. I like him as a player. He's a great midrange shooter who rebounds well and has a developing low post game but he's devoid of virtually any athleticism which eerily sounds like Spencer Hawes. They were supposedly hot on Philly native Markieff Morris but when he was taken a bit early at #13, it appeared that Sixers brass were flustered and just took the next best big man available. Honestly, adding Faried, JaJuan Johnson , or even Motiejunas would have been a better pick as they each could get major minutes and improve the club from day one. Management should have worked a little harder to move the overpriced Iguodala in order to free up some much needed cap room that suffocates the roster. While a trade of Iggy is still possible, they could have drafted Texas sharpshooter Jordan Hamilton to speed up the process. Allen had a successful but underachieving career at Temple where he never quite lived up to the hype. He is an above average rebounder, defender, and passer for his position but without the help of Summer Leagues, I doubt he will make the roster. For a team supposedly on the rise in the Eastern Conference, drafting Vucevic and Allen didn't make much of any progress in keeping up with Miami, Boston, and Chicago in the East.
OKC Thunder – D
Everyone knew that after the Boston College PG didn't work out for any teams prior to the draft that he had a guarantee from someone that he would be a 1st Round selection. Many had speculated but not many knew it was the Thunder considering they already have Westbrook, Nate Robinson, and Eric Maynor already on the roster. Maynor is supposedly the odd man out as the team is looking to move the talented floor general prior to the season's start. What scouts did see of Jackson they liked as he is a superior athlete that just happens to play the PG position. He has tremendous athleticism with an immense wingspan for his size, making him an above average defender. He has a similar game to Westbrook so it does raise a question as to whether there is actually tension between he and Durant concerning how they were eliminated in the post-season.
New York Knicks – D-
#45 Josh Harrellson
The Knicks' draft has to rank as one of the worst in recent memory. Despite having the very best rated defensive player in the nation last year in Chris Singleton and rebounding king Kenneth Faried still on the board, the Knicks chose to go with an athletic jack-of-all trades wild card in Shumpert. What? True, Shumpert is a physical specimen that has been known to play a lock down type defense when motivated, but he is limited offensively and players that fit their needs to a tee were still available. Harrellson is a hard luck story made good as a big body that fights for every rebound but he lacks any form of athleticism and is a below average offensive player. He doesn't fit with New York's uptempo style and without the aid of Summer League stands a real hard time making the roster. Faried probably would have been the best fit as he would ease the rebounding burden on Stoudemire while becoming an instant crowd favorite with his hard-nosed, blue collared tactics. Stat and Melo were looking for some help and instead got some Shump and some Jorts.
New Orleans Hornets – Incomplete
Drafting Josh Harrellson at #46 then selling him essentially for $1 million to New York seems like an out of this world type bargain. Maybe it's payback for the Dutch settlers once tricking the Indians into buying the island of Manhattan for pennies on the dollar hundreds of years ago?
Allen Moll has been a lifelong NBA and NCAA College Basketball fan who watches and studies games religiously, and coaches youth basketball in his native Lehigh Valley region of Pennsylvania.  Allen also provides content to Bleacherreport.com, Upperdeckblog.com, in addition to being a tenured NBA and NCAA columnist for TheHoopDoctors.com.