June 23, 2011 – Allen Moll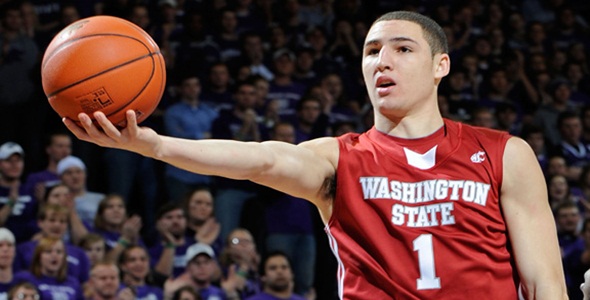 With the 2011 NBA Draft merely a few hours away, team GM's are gearing up to make that last second trade, somehow nab the sleeper of the draft, or move up to nab a game-changing player. The draft can be either make or break a General Manager.
Surely they are scouring over countless statistical numbers and hours of highlight tapes in order to make the most informed decision possible. Leading up to that precise moment that the Cavaliers go on the clock with the first selection, a number of players' stocks are either rising or sliding as are a number of surprising trades being proposed. Here's a few last minute happenings leading up to the official 2011 NBA Draft:
Potential Trades
PG Tony Parker(Spurs) to Kings for #7 Pick and SF Omri Casspi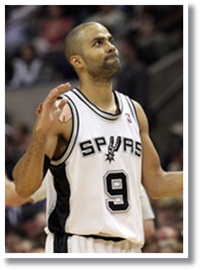 This one came out a day or two ago when we reported that the Spurs are heavily shopping Parker but the rumors are gaining steam the closer we get to Thursday night's Draft. The Spurs are suddenly enamored with a number of unnamed prospects that are predicted to go high among the Top 10 Picks, like preferably a back-up center, that are deemed a good fit for their program.
It's no secret that San Antonio badly needs an influx of youth after bowing out early in the 2011 NBA Playoffs to the upstart Memphis Grizzlies. The aging core of Duncan, Parker, and Ginobili may have seen better days as young players on the roster like PG George Hill, SG James Anderson, PF DeJuan Blair, and C Tiago Splitter continue to play increasingly more minutes with each progressing season.
An added twist to the rumor is that the Spurs are reportedly offering promising PG George Hill or Parker for Detroit's #8 Pick. Detroit is looking for front-court help and has stated that any trade for their top pick would be a draft night deal since they would only be willing to trade the pick if players they are targeting like Tristan Thompson or Jan Vesely are already off the board. The Toronto Raptors at #5 are also rumored to be possible trade partners.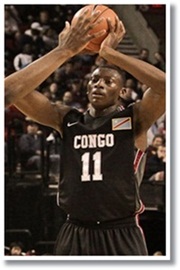 Houston in offering the #14 and #23 Picks to Detroit for the Pistons #7 Pick
Houston may be in panic mode considering that prized big man Yao Ming may be seriously considering early retirement after having yet another season ending foot surgery.
It's hard to get a read on exactly which way the Rockets are leaning concerning position players as they have been rumored to initially be looking to upgrade the PG position despite getting outstanding production from Kyle Lowry after the trade of the previous season's breakout star Aaron Brooks. According to our latest Mock Draft – Final Cut, Houston is looking at taking a flyer on Michigan PG Darius Morris.
Surely the players of interest for Houston are a mix of 7'0 Jonas Valanciunas, 6'11 Jan Vesely, or the 6'9 Bismack Biyombo, who is a tad shorter but has an immense 7'7 wingspan. With the offensive minded Luis Scola firmly under contract and the uncertainty about Ming's future, the Rockets will surely look to move up to snag one of the promising young bigs.
Indiana is offering C Roy Hibbert and #15 Pick for Minnesota's #2 Pick
New GM Larry Bird may be looking to make a big splash upon his return to Pacers management. Joining into the rumor mill that a number of teams including the LA Lakers and the Miami Heat are interested in prying the #2 overall pick from the Timberwolves, the Indiana Pacers are now said to be the latest team to have a gainful interest in selecting Derrick Williams with the 2nd pick.
I guess the old saying of why draft an unproven rookie when you can trade for a proven veteran holds true here as Roy Hibbert is among the dying breed of true 7 foot+ big men still playing in the NBA. After struggling in his first few seasons out of Georgetown, Hibbert came on strong last season to average nearly 13ppg, 7.5 rebounds, and 1.8 blocks.
Players On The Rise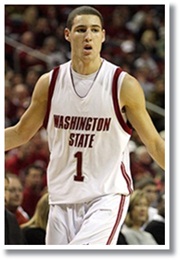 SG Klay Thompson(Washington St) is flying up draft boards to the point where he is now the top rated SG prospect available. With Alec Burks, the previous best rated SG, showing a real deficiency in the 3 point shooting department, along with Thompson lighting it up in individual team workouts, he is now rumored to be taken in the #9 through #11 range. Many teams compare his lights out shooting ability to that of NBA Hall of Famer Reggie Miller, and the comparison isn't far off.
Milwaukee currently has the #10 pick and will have a glaring need at SG with the oft injured Michael Redd becoming a free agent but are fielding calls from teams directly below them like Houston, Golden State, Utah, and Indiana as they all are high on Thompson. The most active is reportedly Houston, who would offer Kevin Martin to Milwaukee in exchange fro the #10 pick. Then again, all the trade posturing may be for not as Charlotte Head man Michael Jordan is also reportedly enamored with Thompson, and could scoop him up with the #9 pick.
Iman Shumpert(Georgia Tech) is another player on the rise as the combo guard with outstanding size(6'5 and 210lbs) has impressed scouts so much in individual workouts that he is rumored to possibly go as high as the mid teens after not getting much buzz early on.
He's a superior ballhandler, a plus defender, and is a supremely built athlete that led the Yellow Jackets in scoring, rebounding, assists, and steals as one of the ACC's best players. But he's not without fault as he has raised red flags when it comes to attitude and desire but compares favorably with the NJ Nets swing-man Terrence Williams.
Shumpert, who registered only the 4th triple-double in Georgia history, is reportedly a target of Phoenix with the #13 pick.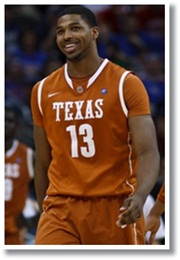 PF Tristan Thompson(Texas) has been described as "beastly" in individual team workouts. He has gotten the best of every other big man prospect in individual workouts except probable Top 4 pick Enes Kantner and could be taken as high as #4 by Cleveland, depending on what direction the Jazz go at #3. This scenario involves Cleveland taking Irving #1, then the Jazz deciding to pass on Brandon Knight with the 3rd pick, forcing the Cavs to go with either Jan Vesely or Thompson, instead of Kantner, as their big man of the future.
The Pistons at #8 are also possible suitors even though Thompson plays the same position as last year's selection Greg Monroe. They would be compatible considering the players have opposite skill sets and Monroe is a much better passer and is more offensive minded and Thompson has NBA ready defensive abilities. After initially being considered a late 1st Round selection upon declaring as an early entry candidate after his freshman season, Thompson has parlayed a good Combine showing, including showing off a 7'4 wingspan and some chart topping athleticism, combined with a great attitude and a strong post presence in team workouts into potentially now creeping into the Top 10 picks. With only one year of college experience, Thompson is considered one of the true boom or bust picks of the draft. It appears that most GM's are leaning toward boom.
Jimmy Butler(Marquette) arguably has seen his stock skyrocket to potentially be one of the Top 3 SF prospects. The 6'7 and multi-talented wing player is capable of playing any position from 1 through 4 and defends as well as any player in the draft.
He was the MVP at the Portsmouth Invitational(the top showcase for NCAA seniors) and shined at the Chicago Pre Draft Combine before measuring out and performing well at the NBA Combine. While he also performed well in team workouts, it's his outstanding personality and hard-working demeanor that has GM's drooling as he would be an asset to the community in addition to being an outstanding ballplayer.
Initially Butler was thought of as a 2nd Round prospect but now is getting some mid to late first Round buzz after his personal story of immense struggle from being basically abandoned at age 13 to a potential multi-millionaire in the NBA. GM Danny Ainge in Boston has brought Butler in for a late 2nd workout meaning the Celtics have a real interest at #25 and even more interestingly, the Suns are considering taking Shumpert with the #13 Pick if they follow through with the buy-out of Vince Carter.
Players Falling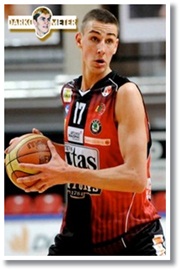 PF Jonas Valanciunas(Lithuania) – It's almost universally agreed that Valanciunas has Top 5 talent, or at least potential for that matter, but his current contract issues in Europe will all but surely keep the promising big man overseas for at least 1-2 seasons.
Teams looking for immediate help up front like Cleveland at #4 and Washington at #6 are reportedly thinking of passing on Jonas in fear of another Ricky Rubio situation. The next best options to provide front-court help are Texas forward Tristan Thompson, along with European bigs SF Jan Vesely and PF Donatas Motiejunas. Vesely is in the mold of a high energy open court type player while Motiejunas is more if an offensive force.
While early Mocks had Valanciunas pegged for the #4 pick with Cleveland, he now may slide to #9 Charlotte and even some think he could be taken to at #12 with Utah. Of course, it all matters what direction things go at the top with Utah at #3 and Sacramento at #7.
PG Kemba Walker(UConn) – Through virtually no fault of his own, Kemba's stock may suddenly be sliding as one unnamed GM in possession of a Top 5 selection went on the record comparing Walker to former Texas PG TJ Ford.
If you remember, Ford was also a vertically challenged, yet highly touted collegiate player with a similar skill set based on speed that was taken #8 overall by Milwaukee. After averaging 11 points and 5 assists while playing for 3 teams and suffering through a severe spinal cord injury, forcing him to miss an entire season, Ford is universally considered a disappointment considering he was the National POY in 2003.
Walker has tested about what was expected in drills but actually measured well at the Combine, showing a true height of 6'1 in shoes and showing some blazing end-to-end speed that some describe may be on par or better than any player currently playing in the Association. The consensus predicted pick for Walker has ranged anywhere from #5 with Toronto to # 8 Detroit but if he slides past the Pistons, he may not be chosen for a while considering that most teams thereafter don't have a pressing need for PG until Hou(#14) or NY(#19), who are both reportedly looking for a floor general for the future.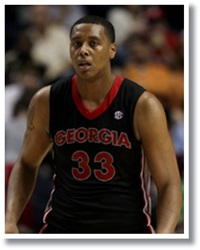 PF Trey Thompkins(Georgia) – Although he possesses a skill set to be an immediate impact player in the NBA from the PF position, he continues to disappoint because of a lack of conditioning during the Combine and workouts.
He weighed in with the highest body fat(15%) of any player at the Combine and after being considered a Top 10 pick in mid-season Mock Drafts may fall into the early 2nd Round.
Thompkins does have excellent size(6'10 and 260lbs) and projects as a double-double player behind in impressive pick-and-roll oriented game, including an impressive perimeter and mid range jumper. On most mocks, he could be a target of the Chicago Bulls, who have 2 selections late in the 1st Round.
Allen Moll has been a lifelong NBA and NCAA College Basketball fan who watches and studies games religiously, and coaches youth basketball in his native Lehigh Valley region of Pennsylvania.  Allen also provides content to Bleacherreport.com, Upperdeckblog.com, in addition to being a tenured NBA and NCAA columnist for TheHoopDoctors.com.